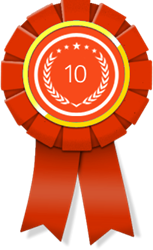 PHILADELPHIA, Penn. (PRWEB) October 19, 2016
10 Best SEO is excited to present the winners of the Best SEO Agency award, which is a new monthly award given out to companies in the online marketing field specializing in search engine optimization services. The award winners in this category for October 2016 are WebpageFX, Digital Current and Boostability.
10 Best SEO believes that businesses of all types and sizes that hire SEO professionals to boost their visibility on search engines should have an easy way to find the leading companies offering the services they need. They also want SEO companies that have shown great talent and make use of the most effective optimization techniques to be recognized for their quality. Here is a description of some of the award winners for October 2016.
WebpageFX, a top SEO agency based in Philadelphia, Penn., is a full-service SEO company that offers a large selection of search engine optimization and related online marketing services to meet the needs of a wide range of clients. Their services are used by companies from all over the world, ranging from start-up to multinational firms. They have a team with diverse talents who is capable of doing any type of search engine marketing, website design and social marketing task needed as part of a project they were hired for. Whether they want just a slight boost to their online popularity or aspire to completely dominate their market, clients of WebpageFX can expect to achieve their objectives.
Digital Current ranked second on the list of best SEO agencies for October 2016. As a company that was founded by online advertising and marketing experts, Digital Current knows that keeping up in the rapidly changing world of online business can be a challenge for many companies. This is why they started an SEO firm that takes care of managing the online assets of their clients so that they can focus on their main business activities. They use advanced on page and off-page techniques that boost not only search engine positions, but conversions and website visitor engagement as well.
Leading SEO firm Boostability is another top-notch company that landed on 10 Best SEO's list for October. With Boostability, business owners can build a solid and highly positive online image. They have experts in market research and keyword analysis who carefully plan every SEO campaign so that it leads to optimal results for the client. In addition to SEO, business owners can benefit from Boostability's mobile web design and social media optimization services.
For more information about the October award winners, please visit http://www.10bestseo.com.