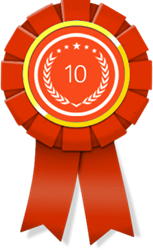 PHILADELPHIA, Penn. (PRWEB) February 16, 2016
10 Best SEO is pleased to bring the public a brand new monthly award: Best SEO Agency. The award for February acknowledges leading search engine optimization business owners for all of the work they do to make brands big, bold, and brilliant in the online domain. The award winners for this month are WebpageFX, Digital Current and Boostability.
WebpageFX is an excellent Internet marketing company based in Philadelphia, Pennsylvania. Being a leading SEO firm, WebpageFX and its professionals are committed to offering clients detail-oriented, goal-centered marketing services that ensure their brand becomes increasingly prevalent and powerful in the online sphere. Some of the search engine optimization strategies deployed by the marketing mavens of WebpageFX include link building, keyword analysis, and online reputation management. The professionals of WebpageFX are also passionate about conducting ongoing, comprehensive target market research to ensure that the client's online image is relevant and cutting edge.
Digital Current is a top SEO agency based in Mesa, Arizona. The company's professionals are passionate about using cutting-edge methodologies and strategic thinking systems to enhance the client's presence and power in the Internet realm. The firm's techies use various optimization techniques to realize this objective. Additionally, the company is pleased to offer competitive prices to ensure that business owners don't break the bank in the process of building their online image. Business owners who are interested in building their online presence should know that Digital Current is the company to call for excellent, expedient assistance.
Not surprisingly, Boostability also appeared on February's list of leading search engine optimization businesses. As a team of premier marketers, the professionals of the company use the latest and greatest search engine optimization techniques to help business owners outperform all of their competitors in the online sector. In addition, the Boostability's professionals conduct ongoing research to remain cognizant of industry trends to ensure that the brand owner's online identity is contemporary and cutting edge. Finally, the company's representatives understand the power of connectivity, and they use their knowledge to keep the business owner and prospective customer communicating in a manner that optimizes conversion.
For more information, visit http://www.10bestseo.com.