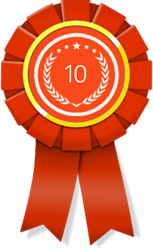 Harrisburg, PA (PRWEB) March 28, 2017
Awards organization 10 Best SEO recently selected WebpageFX as the industry's best SEO agency for March 2017.
The monthly award is very timely and important given the increasing relevance of SEO in business. The best way to go about finding new audiences for any brand is through targeted and comprehensive digital marketing and public relations, and there are a number of outside agencies that offer such services to brands of all sizes. One of the most prominent and effective forms of digital marketing is search engine optimization, also called SEO. SEO is all about transforming an online presence into something that will more readily appear in search results, which in turn drives more traffic to the site. The top SEO firms offer amazing marketing services that only begin with SEO, but as one of the oldest methods of such marketing, it is a vital aspect. How can brands know which agencies they should use?
10 Best SEO wants to take the worry out of the equation for brand leaders trying to find an effective SEO agency. They release top ten rankings of the best SEO firms at the start of every month, and they find their rankings through complex formulas that carefully balance the most important features of each of the most prominent brands in that industry. The results for March of 2017 have been announced, and the list of all ten winners can be seen here. The top three winners are outlined below.
WebpageFX is the leading SEO agency for March 2017. WebpageFX is a digital marketing and graphic design firm located in Harrisburg, Penn. They also have branches in Baltimore and New York City, so they are very accessible to anyone needing amazing SEO services. Their services are tiered by price and by comprehension, so brands that need more services or are just starting out can get the results they need.
Another top SEO agency, Digital Current, placed second on the list of premier online marketing businesses for March. Digital Current is a firm that is more than up to the challenge of producing amazing campaigns that will certainly draw more attention to any brand. The average return on investment with Digital Current is nearly 700 percent, which is almost unheard of in the industry.
Boostability is a premium digital marketing and graphic design firm that focuses on SEO and many other targeted digital advertising methods. It is no wonder Boostability earned a position in the rankings for the top online marketing businesses. They can offer keyword analysis, market research, and linking services as well.