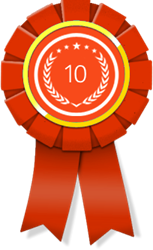 PHILADELPHIA, Penn. (PRWEB) May 26, 2016
10 Best SEO, a San Francisco-based online marketing research firm, has named WebpageFX, Get Phound, and Dinkum Interactive as the top three companies in its Best SEO Agency in the Philadelphia category. This latest award recognizes winners for May 2016.
As the SEO branch of 10 Best Network LLC, 10 Best SEO focuses on researching and compiling a list of the best companies that offer a variety of services geared towards search engine optimization, which include social media marketing, public relations, and reputation management. 10 Best SEO comprises a team of online marketing experts and veterans who have worked with clients featured on the famed INC 500 list as some of the fastest growing companies in the United States.
According to 10 Best SEO, WebpageFX is the top Philadelphia SEO firm. Headquartered in Harrisburg, the company has a wide SEO palette, providing local and pay-for-performance SEO services; SEO especially tailored for ecommerce and large enterprises; and consulting and training. 10 Best SEO notes that WebpageFX works with a high level of speed, sophistication, and efficiency. It was listed in the Inc 5000 list, was crowned as 2013 Pennsylvania Tech Company of the Year, and is recognized as one of the best places to work in the state. WebpageFX's clientele has included Cleveland Brothers, Ocean City New Jersey, VF Outlet, Sharrett's Plating, Drayer, and the Gulotta Law Group.
Ranked at No. 2 is Get Phound, a leading SEO agency that also provides website design and social media marketing firm. The Conshohocken-based company was founded in 2013 by marketing guru Ross Cohen. Get Phound has since grown to a formidable firm that serves more than 200 clients, which include Mesa Fresh, East Coast Carpets, Brite Facility Solutions, Beyond Chiropractice, and Citrus Produce. Additionally, it is a member of the Chester County Chamber of Business & Industry, the Montgomery County Chamber of Commerce, and the Greater Reading Chamber of Commerce & Industry, among several other organizations.
At No. 3 on the list of top Philadelphia SEO companies is Dinkum Interactive, which 10 Best SEO singles out for exceptional work in the field of Internet marketing. Based in Rose Valley, the firm has worked with clients like Voxel, Hoffman Services, Eastern University, and RAAB.
To learn more details about this month's award winners, please visit http://www.10bestseo.com.