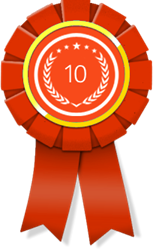 PHILADELPHIA, Penn. (PRWEB) December 21, 2015
10 Best SEO, a well-known website that regularly analyzes, evaluates and awards the industry's greatest SEO (search engine optimization) companies, recently named WebpageFX of Philadelphia, Penn. as the top choice for its Best SEO Agency awards for December 2015. Although WebpageFX was the top pick, the website also positively acknowledged several other companies. This monthly award is a new addition to the recognition that 10 Best SEO bestows.
WebpageFX is a renowned digital marketing firm that specializes in the ins and outs of SEO, a strategy that helps websites achieve superior rankings in search engines on the Internet (Google, Bing and Yahoo are all popular examples). As a premier SEO agency, WebpageFX has professionals who are highly knowledgeable in all aspects of search engine optimization. Due to this, they are gurus in the smart use of keywords. They're also gurus regarding links. Businesses that need more traffic to their websites frequently work with the skilled staff members at WebpageFX. If a business is doing poorly and wants to attract new customers, collaborating with this SEO company can be a smart and effective move.
Digital Current in Mesa, Arizona is 10 Best SEO's second choice among the country's top SEO agencies for December of 2015. The marketing wizards at Digital Current are experts in assisting company websites in achieving enviable search engine rankings. The people who work for this prominent SEO agency are extremely well-versed in all matters that relate to search engines, whether Bing, Google or anything else. Businesses that are looking for assistance in boosting their online profiles frequently turn to the knowledgeable professionals at Digital Current.
Boostability, a leading SEO agency in Lehi, Utah is 10 Best SEO's number three December 2015 pick. The top objective at Boostability is to help clients construct their brands. If a business needs reliable assistance in establishing its identity to the public, Boostability's branding service can come in extremely handy. Impressive conversion rates are also a major goal for the Boostability team. When it comes to marketing and helping eager clients, Boostability is always a very reliable choice.
10 Best SEO's December 2015 list also mentioned several other powerhouses in the SEO agency realm. These impressive companies include SocialFix in New York, N.Y.; Ignite Visibility in San Diego, Calif.; Inflexion Interactive in Hoboken, N.J.; Hudson Horizons in Saddle Brook, N.J.; Netmark in Idaho Falls, Idaho; SEOValley in Chicago, Ill.; and SEO Image also of New York City.