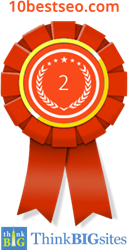 NYC, New York (PRWEB) August 28, 2014
10 Best SEO is a team based in San Francisco that examines the SEO industry to discover which SEO firms have the best value. Their methodology for ranking the best SEO company uses an algorithm that incorporates both qualitative elements, like reviews, as well as quantitative analysis of objective metrics. Each company is evaluated on the same playing field, and in the end 10 Best SEO publishes a list of the 10 top firms.
10 Best SEO also publishes rankings for the top 10 best SEO experts to publicly recognize innovators and leaders in the field of online marketing, as well as subcategories for different awards. This release concerns their overall top 10 list.
ThinkBIGSites took home the number 2 spot thanks to their proficiency in combining traditional, national-scale SEO design with local listings and directories to provide a targeted and efficient online marketing package. Local directory profiles, maps, and social media presence are all important parts of not just boosting visibility, but also connecting with local customers.
The best SEO firm needs to be able to handle all the different elements of online marketing, and ThinkBIGSites has shown that they can compete with the industry's best. The top SEO agency is a coveted title, and with 10 Best SEO publishing new rankings frequently, ThinkBIGSites.com might be in the top spot in the coming months.
Regardless, their placement on the list reflects well on their ability to design and implement an effective marketing campaign that generates exceptional value for their clients. This is a signal of how far they have come from their humble Long Island origins and a sign of their potential for growth. Look to ThinkBIGSites to keep on making waves in the SEO industry as their rise continues, because with a placement like this at a top ratings agency, they have nowhere to go but up.