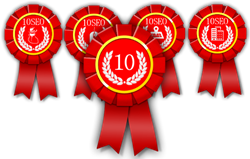 Austin, Texas (PRWEB) April 29, 2014
10 Best SEO, a San Francisco-based team consisting of experts in the field of online marketing, has announced the company in the first-place spot on its Best SEO Firms list. Texas-based Search RPM was ranked the number-one best SEO agency of 2014, cited for its focus on traditional marketing concepts and techniques in the world of Search Engine Optimization. 10 Best SEO spends innumerable hours analyzing and comparing top SEO companies from all over the world to find those that have shown unique talent within the industry and awards these agencies by inputting statistics drawn from qualitative analysis and quantitative variables into an algorithmic computer program.
In focusing on applying traditional marketing concepts and techniques to the world of SEO, SearchRPM of Austin, Texas pays careful attention to search marketing standards while keeping a keen eye on the user experience of a website. SearchRPM has been labeled among the best firms in the country due to its uncanny ability to not only represent an SEO firm, but a complete online marketing solution.
SearchRPM implements a three-pronged approach for its clients through a process called Design, Measure, Evolve. Every month, the company launches a new campaign for clients that are carefully planned and executed based on brand, audience and client goals. The Design phase is not about the visual styling but rather the overall strategic and creative design of a client's campaign based on the primary marketing objectives. In the Measure phase, the firm closely monitors and measures the campaign's key metrics, understanding that whatever the client's goal is, the success of the campaign ultimately depends on more than just driving web traffic. If SearchRPM executives aren't hitting the client's primary objectives, they switch into the Evolve phase, normally encompassing adjusting a message, targeting a different audience or refining placements – sometimes even creating something from scratch.
Landing in respectable second and third places in the 10 Best SEO Agencies for 2014 rankings, respectively, were New York, NY-based Matomy and San Mateo, CA-based BrightEdge.
The 10 Best SEO formula subjects the leading Search Engine Optimization agencies to rigorous testing based on a number of qualitative and quantitative ranking points. 10 Best SEO rankings evaluate firms in its SEO Directory using the 10 Best SEO Formula which includes client research, online research, reviews, previous accolades, traffic and other SEO rankings, proprietary analytics and other ranking source