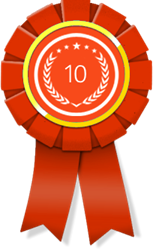 DENVER, Colo. (PRWEB) August 29, 2016
10 Best SEO is pleased to announce Restaurant Marketing Gurus as the winner of its Best Restaurant SEO Firm award for August 2016.
Every business in the modern world can benefit from high online visibility, and restaurants are no exception. The best restaurant SEO firm might be one that performs a certain service to a higher degree than the rest, but how can those premium companies be identified? Most businesses have little or no experience at SEO, so they have a hard time discerning the optimal service, which is why 10 Best SEO has made it their mission to release updated rankings of the best restaurant SEO firms serving the industry.
Each month, 10 Best SEO will release an updated ranking of the top 10 best SEO agencies. They use a complex mathematical system that weighs several different factors among the top SEO firms, and they will update their findings as time progresses to keep the public informed of the changing market. For August of 2016, the top 10 winners have already been chosen, and the top three are outlined below.
Restaurant Marketing Gurus, the leading restaurant SEO firm for the month is located in Denver, Colorado. The company provides restaurants with some of the most comprehensive SEO strategies possible. Their goal is to showcase what makes each of their clients special in the restaurant industry, and they do so by creating elegant changes that optimize visibility.
Recipe Social is based out of London in the United Kingdom, and it ranked second on the list of best SEO restaurant firms for August. They are constantly updating their SEO techniques to best match the ever-changing online landscape. One of their best features is their ability to make any dish sound appetizing enough to make someone start drooling. This helps boost online communication like reservations. They offer SEO services that are exceptionally affordable and cost-efficient.
Bistro Link of Santa Monica, California is the third-place winner for August of 2016. In its role as a top SEO restaurant firm, Bistro Link understands how to package keywords to ensure their clients see the largest boost in online visibility possible. They are also skilled at filling in online directories, which helps boost the online presence of their clients even further. Their SEO strategies are also known to help increase social media presence and engagement amongst social media users.
For more details about the winners, visit http://www.10bestseo.com.