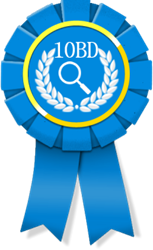 NEW YORK, N.Y. (PRWEB) November 23, 2015
The November 2015 Best SEO Web Design Firm Awards were recently issued by digital review agency 10 Best Design. The monthly awards are presented to web development firms across the nation and winners are determined based on a variety of industry-relevant criteria.
Leading the list of the best SEO website development firms was Big Drop Inc of New York City. Situated in the commercialized mecca of Manhattan, Big Drop Inc has a good understanding of just how large a role marketing plays in both companies' and consumers' lives. The firm applies this honed knowledge by providing sustainable marketing solutions to clients in New York City, New Jersey and some of the suburban communities in the area. They focus on location-based SEO methods, such as inserting Google Maps onto a webpage and presenting detailed and accurate directions to the final destination that's promoted online, making the transition from viewer to consumer seamless.
Second place was awarded to Blue Fountain Media, a top SEO Web design firm based out of New York City. They firmly believe that search engine optimization is the most useful and versatile marketing tool available, and strive to enhance a website's presentation to the most popular search engines like Bing, Google and Yahoo. Blue Fountain Media analyzes the patterns of rankings on search engines in order to decide what a website needs the most, from better keyword density to polished HTML that complies with the latest standards of XML.
Top SEO Web design firm Maxburst of Farmingdale, New York caps off leading contenders. The company has spent years watching the digital marketing industry flourish and through persistent analyses of the trends and patterns of top search engines, it has learned what features a website needs in its marketing campaign to generate the most useful traffic. Maxburst believes that an organic approach to SEO is the most beneficial for information portals and blogs, but that corporations and larger businesses should set their marketing sights on sponsored ads and pay-per-click advertising.
Other recipients include Dotcomweavers of Paramus, New Jersey; Huemor Design of Long Island, New York; Inflexion Interaction of Hoboken, New Jersey; The Creative Momentum of Atlanta, Georgia; Lead to Conversion of Hudson, Ohio; Hudson Horzions of Saddlebrook, New Jersey; and the Southern Web Group of Atlanta.
10 Best Design is a San Francisco-based review agency comprised of a panel of experienced digital marketing professionals who judge the firms based off the criteria that is part of the 10 Best Design Analytic Review Algorithm, including client research, online research, reviews, previous accolades and more.