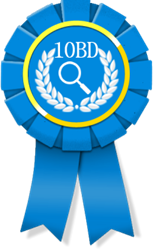 San Francisco, California (PRWEB) December 30, 2013
Leading the Internet in the realm of awards for web design companies and featured on notable news authorities the world over, California-based 10 Best Design recently announced its Best SEO (Search Engine Optimization) Web Design Firms list. From 10 firms spread throughout the U.S., Chicago-based Comrade Web Design won the coveted first-place position while San Diego-based Cofa Media and Atlanta-based The Creative Momentum landed in second and third places, respectively. The Best SEO Web Design Firms list focuses specifically on companies which offer both eye-catching web design and successful SEO services.
As first-place winner in 10 Best Design's Best SEO Web Design Firms category, Comrade Web Design was recognized for its ability to help clients build and improve their websites, while also helping them rank high in search engines. Established in 2007, Comrade remains dedicated to search engine optimization, web design, branding, mobile apps and development, winning a past Best SEO Web Design Firm designation as well. "Websites with high rankings in search engines brings more visitors to a site – and more visitors means more money," states a 10 Best Design senior spokesperson. "No one understands this better than Comrade Web Design."
Cofa Media, taking 10 Best Design's second-place spot for Best SEO Design Firms, represents a full-service web development and design agency that was cited by 10 Best Design for "increasing traffic" and "boosting sales" for its impressive client lineup. The company specializes in web design, e-commerce and mobile projects with specific services being offered such as digital marketing strategies, interaction, UX design and online business analysis. Working together since 2007, the team at Cofa Media combines its skills to provide some of the world's best search engine-optimized websites.
From the initial design of a site to the final product that reaches a desktop, tablet or mobile device, third-place winner The Creative Momentum strives to give its clients the "best website possible." According to 10 Best Design representatives, what makes The Creative Momentum unique is the firm's insistence on taking the user of these sites into consideration during the building process.
The remainder of 10 Best Design's Best SEO Design Firms for 2013 list was comprised of Minneapolis-based Artropolis, Washington D.C.-based CLiKZY Creative, Portland-based Forix Web Design, New Orleans-based Skuba Design, Syracuse-based Buildrr, Redondo Beach-based Isadora Design and Farmington Hills-based High Level Marketing.