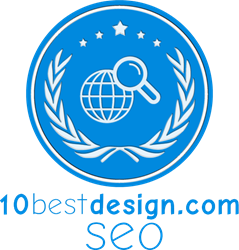 NEW YORK, N.Y (PRWEB) July 29, 2015
In its ongoing efforts to highlight impressive web design firms, 10 Best Design has released its selections for top SEO (search engine optimization) web development agencies across the nation. 10 Best Design is a dependable website that periodically provides assessments of some of the most reputable web design and development agencies located around the United States and world.
Big Drop Inc. was 10 Best Design's choice for the top SEO web design firm. Big Drop is an established New York, New York full-service firm that has a staff full of talented SEO experts. The goal at Big Drop Inc. is to do whatever is necessary to assist their clients in branding and marketing themselves successfully, ultimately boosting conversion rates and garnering dedicated audiences.
Another New York firm, Blue Fountain Media, is 10 Best Design's second place winner on its list of the finest SEO web design firms. Clients that are searching for web design agencies that can help them establish memorable, effective, efficient and attractive websites are sure to admire the expertise available from the pros at Blue Fountain Media. Their web design services are cutting-edge, clever and modern. The team members at Blue Fountain Media are also extremely talented at graphic design, having ample knowledge in everything from visually optimized photographs to enticing background colors.
10 Best Design chose Maxburst in Farmingdale, New York as its number three SEO web development agency. Maxburst specializes in modern and streamlined SEO web design. Maxburst's devoted staff members assist clients in setting up Internet advertising campaigns that make the most out of intelligent SEO practices. Social media marketing is also a significant focus for the Maxburst team. Facebook and Twitter are just two examples of the social media websites Maxburst's professionals routinely use for marketing purposes.
The other highly respected SEO web design firms that were acknowledged by 10 Best Design are Dotcomweavers in Paramus, New Jersey; Huemor Designs in Long Island, New York; Inflexion Interactive in Hoboken, New Jersey; The Creative Momentum in Atlanta, Georgia; Hudson Horizons in Saddle Brook, New Jersey; Southern Web Group in Atlanta, Georgia; and High Level Marketing in West Bloomfield, Michigan. The professionals at these companies are adept in everything from graphic design to conversion rates and beyond.