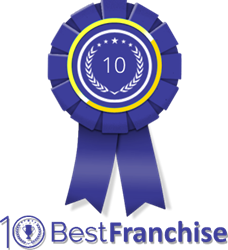 GREENVILLE, S.C. (PRWEB) October 24, 2016
10 Best Franchise is pleased to present the October 2016 awards for the Best Small Business Franchises. The top winner in this awards category is 9Round, a South Carolina-based company.
Investment opportunities are all over the place in the modern world, but that doesn't mean they are all sound. In fact, many investments may end up losing money overall, especially if the proper research isn't done to determine the best opportunity. Franchise businesses are typically a great investment since they require only an influx of capital and the experience necessary to run the franchise. However, not every franchise opportunity is going to be a windfall of success. That is where 10 Best Franchise comes into play.
10 Best Franchise wants to make it easy for the general public to keep track of the changing trends with investment opportunities, specifically those related to franchises. They use a complex system of comparing the very best franchise options, and then they rank them at the start of every month to keep the record current. The top 10 winners will be announced each month, and they have already been selected for October 2016. The first three winners are described below.
9Round is the top small business franchise for October 2016. 9Round is a fitness center franchise that originated in Greenville, South Carolina. The franchise was started with the idea that fitness should be simple, affordable, and supported by a dedicated staff of trainers. The business takes great pride in their ability to help new franchise owners find their footing in the industry.
Leading small business franchise uBreakiFix took the second spot on the list of honorees for October 2016. uBreakiFix is a top-notch firm that is based out of Orlando, Florida. They are an electronics repair service provider, and they work with basically any type of electronic device. Franchises are typically set up inside large malls in order to draw the maximum number of potential customers.
TapSnap also made the list of best small business franchises for October. Based out of North Vancouver, Canada, TapSnap is a brilliant company that offers photo booths for rental. The franchises have little overhead costs since they simply provide the photo booths for their clients. The franchise company offers support to those who are just starting out, and they work with distribution and marketing channels. The typical franchise fee is quite small for this business compared to larger, more detailed franchises.
For more information about the October award winners, please visit http://www.10bestfranchise.com.