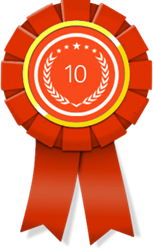 CHICAGO, Ill. (PRWEB) October 10, 2017
10 Best SEO is excited to announce the award winners in its Best Social Media Marketing Agency awards category for October 2017, naming Straight North as the top honoree.
Established in San Francisco in 2012, 10 Best SEO has become the go-to rankings site for online marketing companies. Their team of experts on search engine optimization use a complex rating system so the list only includes the best of the best. The amount of traffic a site gets, online research and reviews, and previous awards or recognition are all taken into consideration with 10 Best SEO's review process. Their Best SEO awards for leading SMM businesses are quickly becoming the most recognized and trusted online.
The first-place winner for the title of Best Social Media Marketing Agency is Straight North of Chicago, IL. They are a full-service internet marketing company that utilizes custom search engine optimization to assist their clients in producing qualified leads. After hiring Straight North, typical clients report a noticeable increase in presence on popular search engines, including Google and Yahoo. One aspect of Straight North that separates them from the pack is the fact that they pride themselves on their transparency. They are passionate about customers knowing exactly what they are paying for with their services.
Second place was awarded to Ignite Visibility, a top SMM business from San Diego, CA. According to Inc. Magazine, they were among the top 1,000 quickest-growing companies of 2017. Ignite Visibility boasts 150 clients, as well as high-profile businesses such as Tony Robbins, Medifast, WeddingWire, and others. They strive for 100% complete customer satisfaction and retention. They work toward that end by utilizing totally custom ROI-centered programs, which is quite a rare thing in the digital marketing industry. They also map out clear and realistic goals so clients can track their progress.
The third-place winner among the best social media marketing agencies was Boostability, out of Lehi, Utah. Known as one of the leaders in elite online marketing companies, Boostability has been recognized by many organizations as providing superior work in Search Engine Optimization throughout the years. For new clients, they offer free consultations and evaluations to improve web presence. They also advise and teach about getting more traffic and the world of SEO, which is constantly changing.
This month's award category includes these winners and seven other notable companies. For more information, please visit http://www.10bestseo.com.