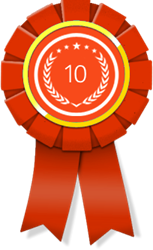 PHILADELPHIA, Penn. (PRWEB) September 27, 2016
10 Best SEO is proud to announce the winners of its Best Social Media Marketing (SMM) Agencies awards for September 2016. These exemplary agencies are led by Webpage FX, with SocialFix and Directive Consulting.
10 Best SEO is a community of professionals who love providing the public with information regarding internet marketing agencies that can build their online presence quickly and correctly. As such, the company is pleased to share details about the winners in its new Best Social Media Marketing Agency category.
Webpage FX is the foremost company on 10 Best SEO's list of best social media marketing agencies. Individuals who are interested in attaining excellent social media marketing services should contact the professionals of Webpage FX. The professionals of this agency are skilled in deploying multiple social media optimization (SMO) strategies to ensure that the business owner's brand becomes increasingly visible on major platforms like Facebook, Twitter, LinkedIn, and Pinterest. The optimized connectivity between client and consumer established through these SMO services will promote conversion as well as brand loyalty. The techies of Webpage FX are also pleased to offer numerous other internet marketing services that can engender substantive visibility and accelerated conversion.
SocialFix is a top SMM firm that excels in offering clients diverse, customized SMO services that help them connect with the consumer in a cutting edge manner. The professionals of SocialFix know that cultivating a relationship between the client and the consumer is the key to generating interest in the brand, and this is why they devote time and attention to using social media platforms to connect the business owner with the public. Additionally, the representatives of SocialFix maintain a customer-oriented methodology to ensure that the brand owner's vision for the company remains the most central focus point of the SMO campaign.
Business owners who are searching for excellent social media marketing services should know that the search stops with Directive Consulting. As a leading SMM agency, Directive Consulting is a progressive digital firm is passionate about offering clients a wide array of proven SMO services which will help familiarize the prospective consumer with the brand in an interactive, relationship-building manner. Additionally, the Directive Consulting representatives continually consult with the clients they serve to ensure that their interests and needs are always respected.
For more information about the winners in this awards category, visit http://www.10bestseo.com.