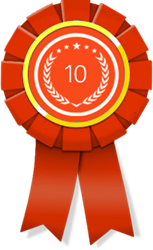 PHILADELPHIA, Penn. (PRWEB) April 13, 2016
10 Best SEO issued WebpageFX of Philadelphia, Pennsylvania its best social media marketing agency award for April 2016.
10 Best SEO is a respected website that consists of numerous SEO and online marketing experts. The website has put together a monthly award that honors all of the top SMM firm choices of the present day. The team members at 10 Best SEO routinely evaluate the successes of social media marketing firms everywhere.
WebpageFX is highly-respected among the list of best social media marketing agencies, which is why it captured the top honor from 10 Best SEO. The full-service digital company consists of some of the most motivated and capable online marketing specialists in the business. The agency's employees use a variety of marketing techniques to help their clients attain stronger conversion rates. The people who work for WebpageFX are very familiar with the biggest social media sites. These sites include Google+, Twitter, Instagram and Facebook. They help their clients with email marketing, content marketing, SEO and PPC (pay per click) advertising, among many other relevant services.
SocialFix is a celebrated New York City firm that has a strong focus on the world of social media and social media management. Being a top SMM firm, SocialFix and its team members concentrate on digital outcomes that can be measured. They also focus on digital outcomes that are motivated by data. Because of that, they strive to enhance Internet setups for an enormous range of businesses. They represent clients from diverse industries such as food, real estate, retail and finance. They also regularly represent non-profit organizations. The team members at SocialFix specialize in application development, content creation, identity branding, SEO and website design.
Ignite Visibility is a renowned San Diego, California-based agency that focuses on Internet marketing. As a leading social media marketing agency, Ignite Visibility routinely helps clients with a broad array of vital marketing services. Examples of these important marketing services are web development, PPC and SEO. Ignite Visibility is also a great choice for businesses that require skilled Internet reputation management assistance. If a business is looking to overhaul its public image after receiving some bad press, Internet reputation management assistance can come in handy.
Other social media marketing firms on 10 Best SEO's list are Digital Current in Mesa, Arizona; SEO Image in New York City; Inflexion Interactive in Hoboken, New Jersey; Netmark in Idaho Falls, Idaho; and Drumbeat Marketing in Houston, Texas.
For more information, visit http://www.10bestseo.com.