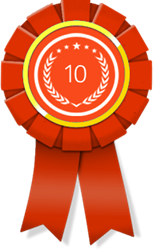 PHILADELPHIA, Penn. (PRWEB) August 24, 2016
This month, 10 Best SEO released its new list of the Best Social Media Marketing Agency awards for excellence in social media marketing (also known as SMM). The winners in this category for August 2016 include WebpageFX and SocialFix.
10 Best SEO is made up of a team of the top experts in the area of online marketing. Relying on decades of experience in the industry and the in-depth knowledge of its diverse and highly skilled staff, 10 Best SEO is known for its insightful research and list of the most highly rated and effective companies in the field of online marketing.
Given the propensity of many different firms to make claims that they are the top agency for social media marketing, 10 Best SEO has provided a valuable service to potential customers in helping to filter through all of the noise that companies make about themselves. Using a combination of quantitative and qualitative analysis, 10 Best SEO has done the leg work in finding the truly talented companies for social media marketing. With the objective information and analysis provided by 10 Best SEO about the top producers in this field, customers can make more informed decisions about how to invest their marketing dollars and which top companies to work with.
The company receiving top honors from 10 Best SEO's Top Social Media Marketing Business awards is WebpageFX. As a leading social media marketing business, WebpageFX was recognized for its amazing attention to detail in all of its social media marketing campaigns as well as its excellent track record for customer service. WebpageFX works across multiple platforms and has demonstrated successful campaigns across all forms of social media.
SocialFix of New York City came in second place on this prestigious list of best social media marketing agencies. This was, in part, due to its ability to optimize its clients' online presence and integrate all aspects of digital marketing strategies with a strong social media presence for clients. The company provide business owners with the tools and resources that enable them to connect with clients in a consistent, innovative manner that enhances brand awareness and leads to repeat conversion.
ThinkBIGsites.com earned a spot as the number three ranked social media marketing agency. Being a top social media marketing agency, ThinkBIGsites.com's skilled professionals deploy a variety of digital marketing techniques to ensure that the business owner's online presence is optimized for conversion. Social media marketing is a key strategy for making this happen, and the company uses it to help its clients interface with their target audience on relevant channels like Twitter, Google+, LinkedIn, and Facebook.
10 Best SEO will be offering this recognition of achievement in social media management as a monthly award. This will allow its list to reflect the most updated innovations in social media strategies given that this is a field that is constantly in a state of flux. Customers will be able to have the most accurate and timely analysis of top firms.
For more information about the winning companies, visit http://www.10bestseo.com.