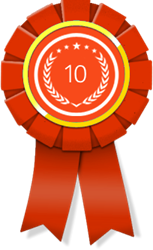 San Francisco, Calif. (PRWEB) April 25, 2017
Awards organization 10 Best SEO has selected the latest winners of its monthly award for the Best Social Media Marketing Agency. For April 2017, WebpageFX was chosen as the top honoree in this category, closely followed by SocialFix.
While announcing this latest award, 10 Best SEO has outlined the best social media marketing agency in a variety of categories. Using a complex algorithm, as well as testimonials from prior clients, 10 Best SEO is able to accurately rank social media marketing agencies on a monthly basis, so that potential customers can clearly see which firm is the top social media marketing agency in a given time period.
In terms of the overall rankings, WebpageFX is the leading social media marketing agency for this month. Based in Washington, D.C., WebpageFX is a highly recommended firm that has managed to help numerous clients build and develop their own digital communities. Although their primary service is related to social media marketing, they actually offer a variety of different services to both established brands on the Internet and new small businesses that are just trying to get started. This diversity has helped propel WebpageFX to the top of 10 Best SEO's list and will likely continue to help them remain there in the future as well.
For second place, 10 Best SEO singled out SocialFix of New York for their exemplary digital marketing services. As a top social media marketing firm, SocialFix focuses on promoting customization. As an agency, SocialFix thrives on building a collaborative environment with its clients, in order to ensure that each project is completed to full satisfaction. While customer service and customization rate highly with SocialFix, the company is also highly skilled in other digital marketing techniques, including search engine optimization. Any business that is interested in rebuilding its brand, or developing an entirely new digital identity, would do well to consider using SocialFix.
Finally, Higher Visibility rounds out the list of leading social media marketing agencies for the month of April. Based in Tennessee, Higher Visibility is a social media marketing agency that prides itself on being able to quickly react to changes in the digital marketing environment. As their name implies, Higher Visibility is skilled in boosting the digital visibility of its clients and ensuring that they have a solid presence on all of the most popular social media channels, including Facebook, LinkedIn, and Twitter.
For more information about the winners of the award, please visit http://www.10bestseo.com.