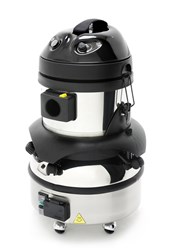 Daimer® is proud to present the KleenJet® Mega 500VP - ATIS®, a vapor steam cleaner that comes bundled with our high-tech features to capture allergens ...
Woburn, MA (PRWEB) September 12, 2013
Daimer Industries, Inc.®, the exclusive supplier of the United States' only EPA-complaint, certified, anti-microbial steam cleaner vacuum machines, offers the KleenJet® Mega 500VP - ATIS®, one of the industry's best anti bacterial steam cleaners to target germs and bacteria within dental offices. The machine comes with proven anti-bacterial technologies to ensure clean and hygienic surfaces. The superior, multi-functional vacuum steam cleaner comes with Daimer®'s proprietary Water Filtration and HEPA technologies for added convenience and protection.
"Dental offices must maintain the highest levels of cleanliness and help prevent the transfer of potentially serious germs to patients," says the spokesperson for Daimer Industries, Inc.®, Matthew Baratta. "Daimer® is proud to present the KleenJet® Mega 500VP - ATIS®, a vapor steam cleaner that comes bundled with our high-tech features to capture allergens, including dust mites up to three microns in size. The system's proven anti-bacterial technologies have been certified by one of the leading bacteria testing labs in America."
The KleenJet® Mega 500VP - ATIS® comes with Daimer®'s ground-breaking Advanced Thermal Ionic Sanitization™ (ATIS®) technology that has been proven to effectively eliminate up to 99.99 percent of germs, and disease-causing bacteria and mold. The technology guarantees complete sanitization.
The machine's high temperatures are designed to eliminate microbial organisms, while the ATIS® technology is proven to prevent the growth of a multitude of bacteria. The efficient, portable steam cleaner can reach high temperatures within 15 minutes, and is ideal for disinfecting and sanitizing virtually all hard surfaces.
The professional steam cleaner also includes a proprietary air filtration technology to improve overall indoor air quality, which is a huge plus for any dental clinic or healthcare center. The Mega 500VP comes equipped with a heavy-duty, four liter capacity, stainless steel boiler offering a lifetime warranty.
The KleenJet® Mega 500VP - ATIS® is a rugged commercial steam cleaner that generates a pressure level of up to 75 PSI and steam temperatures that can reach as high as 310°F for enhanced cleaning of a variety of surfaces, including stainless counter tops, floors, chairs, and much more. The steam vapor contains only around five percent water, so there is no concern of water damaging expensive apparatus and instruments. The Mega 500VP ATIS® emits controlled vapor steam, which helps operators or the cleaning staff focus precisely on the surfaces that need greater attention.
The Mega 500VP is a powerful, professional steam cleaner that allows simultaneous steaming and extraction or alternating steaming and vacuuming. Operators can conveniently choose the feature they need for the surfaces targeted for cleaning. They can be used as excellent tile cleaning machines for enhanced maintenance of clinic floors.
The machine is one of the best anti bacterial steam cleaners, but is not designed for professional carpet cleaning. However, it can be used to sanitize and extract particles from carpets as well as clean hard wood and vinyl flooring, furniture, and most other surfaces. The extraction chamber disconnects in seconds, and the extracted material can be poured down a a toilet effortlessly and conveniently. The system comes with a powerful 2200 mm water column lift.
Daimer® ships the superior tile cleaning machines with large triangular and rectangular brushes containing towel clips, a 10' detachable steam/vacuum hose, plush microfiber towels, a 10' foot detachable steam hose with heavy-duty connections, and many other attachments. All the powerful cleaning features and technologies will make the Mega 500VP the preferred steam cleaner for cleaning dental offices.
For Additional Information:
To obtain more information on the KleenJet® Mega 500VP - ATIS®, visit Daimer®'s website or call Matthew Baratta directly at (888) 507-2220. The cleaning machines are available for shipment to most countries around the world.
About Daimer Industries, Inc.®:
Daimer Industries, Inc.® is the world's leading supplier of the largest line of commercial and industrial cleaning equipment, including industrial steam cleaner systems, advanced multifunctional hard floor cleaners, pressure washing machines, carpet steam cleaner systems, and other products with advanced, patented technologies.
Blog: http://steam-cleaner-machines.blogspot.com/
Watch Videos: http://www.youtube.com/Daimerindustries