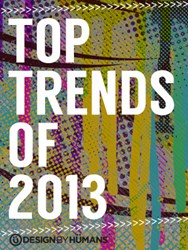 Spotting trends can be difficult, but they often come from a ripple, then others start to catch on and turns into a wave.
Chico, Ca (PRWEB) August 27, 2013
It's midway through 2013, and the best t shirt trends are emerging at the fashion peak. New pop culture themes, pandas, and unique patterns are amongst the best in the newest trends. T Shirt trends are like most Internet trends they come fast and hard like the Harlem shake, or others stick around for a lifetime like Star Wars. This list of the best t shirt trends for 2013 are based on internet buzz, new fashion highlights and pop culture trends that bleed into the fashion world. Popular trends often start as an idea, then they become icons as they get copied and reproduced throughout the art, design and fashion industries. This is a list of Design By Humans shirts that are emerging into the fashion world as trend and design legends.
"Spotting trends can be difficult, but they often come from a ripple, then as they catch on they build into a wave. The beginning of the year we saw pandas building a trend, a few different pop culture items went big in the media, and we are seeing growth in music style shirts, like bright concert shirts, headphones, or musical instruments." - Darren Names
Pop Culture Carries a lot of Weight in the Fashion Industry
This year's t shirt trends have been made popular through old school classics and unique styles of artwork. The main trends stem from old comics, video games, and movies that are not in the media any more, but make a memorable vintage t shirt design. For example, the 'Pixel Heroes' is a grid of superheroes drawn up in 8 bit video game style. Then there's 'Childhood Hero,' from the famous arcade game, and 'Time Fiction' a mash up of the new and old movies. Pop culture is prime location to spot cultural trends, then they are redefined into fashion.
New Graphic Tee Trends Gaining Traction
Rainbow T Shirts have become popular on Design By Humans as they feature color and creative ideas. The rainbow has a different variety of meanings from peace, to the environment. A new icon in the Rainbow shirts is 'No More Tear Gas,' as a protester throws a can of rainbow tear gas in a fight for peace.
Pandas have hit a huge t shirt trend wave as a few successful ones, sparked an entire colony on Design By Humans as well as graphics across the internet. The endangered species, an icon for environmental groups, have given this Asian bear a notable reputation in the t shirt design world. 'Techinocolor Panda' was a mash up of rainbows and pandas to make this iconic design. While 'Pocket Panda,' is a creative little panda that fits right on the chest pocket.
Comic Tees
Most people have a favorite comic at some point, from Batman to Dilbert to Calvin and Hobbs. Therefore, comic t shirts have become a mass popular subject matter for a graphic t shirt. The creative designers at Design By Humans have a unique comic personality as that comes out through design. Oftentimes, these comics are one of kind characters that illustrators created and then designed for a fun shirt. There are scary beasts from the hells, dancing robots, and funny cartoons. The most popular comic tees have a personality, character and theme.
Up and coming Trends
Patten t shirts are a growing trend, from the abstract, to fractal, to geometric. There is a steady rise in pattern submissions as well as sales. Intriguing patterns have been around since the Louis Vuitton and double C's of Chanel. They have translated into t shirt design with artwork patterns with color, shape and abstraction. A few examples are 'Broken and Pixels' with a kaleidoscope of color and sound, and SQs features a grey scale array of unique style squares.
Musical themed
As music controls a large realm of pop culture, and as electronic dance music become more popular, there is an increase in musical themed shirts. Music shirts feature bright colors, exciting designs, headphones, equalizer, etc. They are popping up all over the place a music festivals and concerts to show love for the music. A few good examples at Design By Humans are 'Play my Musical Robot' and 'Heartbeat.'
The real trend setters are those designs that grow outside the categories and pop culture with a unique style. Control by Angry Monk is a metaphoric journey from jellyfish to brain, a truly original conception. Other t shirt designs include 'Dino Frenzy,' that sparked a whole series of great line art and giant illustrations from Mr. Nicolo. The abstract illustrations of Studio8worx has made a mark with super abstract illustrations and a detailed central design.
While there are thousands of different shirts, top trends are the ones that stick out the most often in the crowd. T Shirt trends can be tough to predict and follow since there are thousands of styles and unique characteristics. Design By Humans hosts over 1000 different t shirt designs, and selling shirts online since 2007. Through sales data, researching the popular culture, and experimenting with new designs; Design By Humans strives to find new t shirt designs and print them with the highest quality in mind. To follow graphic t shirt trends, watch designbyhumans.com or follow the on company Facebook.