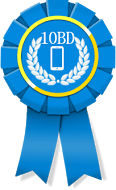 SAN FRANCISCO, Calif. (PRWEB) February 15, 2016
Recently, 10 Best App named the top 10 travel apps for cellphones, with the top three being: Trover Applications, Options Away and Hipmunk. The February 2016 awards were given to companies whose applications have shown excellence in helping travelers find places to visit around the world and ways to save money when booking tickets and traveling. This is a new monthly award from 10 Best App.
The best travel app award for first place goes to Trover Applications. As the leading travel app, Trover Applications helps travelers to find exceptional places in the United States and all around the world. Photographs and information on the places are available, as are tips on how to save money at the destinations.
In second place and rated the top android travel app of 2016 is Options Away. Like other leading android travel apps, this application enables travelers to hold a flight for three to 21 days at the current day's price.
In third place is Hipmunk, a leading android travel app that searches and compares thousands of travel websites to ensure customers obtain the best prices.
Recognizing the winning companies is important because as more and more baby boomers retire, travel domestically and internationally is becoming increasingly popular. At the same time, the number of places to go and things to do is rapidly increasing as countries boost their tourism programs and travel agents devise more exciting trips. The result can be confusing. To help out, numerous apps help travelers make their decisions by providing practical information on all kinds of travel, from weekend trips to visits to exotic places around the world.
However, would-be travelers cannot be blamed if they are unsure about which of these applications are the best to use. To download as many as they can find and try to use them all would be confusing, time-consuming, and frustrating. So the team at 10 Best App looked at the many cellphone travel applications out there and developed a list of the top 10 to guide travelers. In addition, 10 Best App has outlined what each of the top 10 applications has to offer, so that travelers can match their needs with the application that best suits them.
For more information, visit http://www.10bestapp.com.