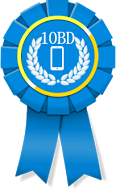 SAN FRANCISCO, Calif. (PRWEB) February 22, 2016
10 Best App recently named the 10 most outstanding travel applications for cellphones for February 2016. The monthly award, which is new, honored Trover Applications, Options Away and Hipmunk as the top three travel apps for February.
The recent awards were presented to apps that are the best in assisting travelers to use their smart phones to discover domestic and international travel destinations. The travel applications also are rated for their ability to save costs not only on purchasing tickets but also on general travel expenses. These awards are designed to help travelers easily and effectively find applications that will be most useful to them in hunting down places around the world to visit.
Rated the top travel app is Trover Applications, which assists travelers with discovering unusual destinations, not only in the United States but also in other parts of the world. The places that Trover suggests are illustrated, and information is provided on how to save cash on rental cars and hotels. Included are short weekend trips, as well as extended vacations to places such as Europe.
Options Away, which ranked as the top android application, came in second place on 10 Best App's list of top cellphone travel programs. A benefit of using this application is that travelers concerned about whether they are obtaining the best price for a flight can lock in a fare for anywhere from three to 21 days. The ticket can be bought at any time during that period and, if the price has dropped in the interim, the traveler will pay the lower fare.
Landing in third place as a leading travel app is Hipmunk. Not only does this application enable travelers to search through websites, it also provides access to special deals that can run as high as 60-percent cuts on hotel rates. Customers can create their own logins to store their searches.
10 Best App's recent award addresses a valuable need in the market. As new and exciting tourist destinations are added to the existing list of places that are already available, selecting the best travel destinations and matching them to a traveler's budget can be confusing and, at times, frustrating as well. The needs of each traveler are different. Some tourists want to travel only locally to popular destinations and are searching for the best prices and package deals. Others would like to plan their own trips to a wide variety of unusual destinations. Yet others would like to go to exotic international destinations that few Americans visit.
However, 10 Best App has done all the legwork. Their award listing saves travelers the time-consuming and frustrating task of downloading numerous applications with travel information and trying to ascertain which of them is the top cellphone travel program. The organization's experts have searched through and tested numerous applications and named those that are most practical. Not only has the research team at 10 Best App ranked those that have the most useful applications, but it also has provided information on what each application offers. A would-be traveler can therefore use the information provided by 10 Best App to decide for themselves which of the applications apply best to their individual needs as well as the type of smart phone that they use.
For more information, visit http://www.10bestapp.com.