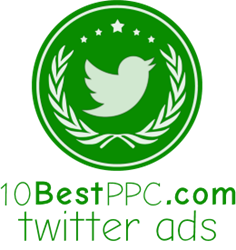 CLIFTON PARK, N.Y. (PRWEB) August 31, 2015
Awards organization 10 Best PPC frequently assesses exceptional work in the Twitter PPC (pay per click) online advertising realm. On its most recent list, the organization selected Internet Marketing Ninjas as its best Twitter PPC management firm. Although Internet Marketing Ninjas was the top Twitter PPC firm, the list also highlights nine other outstanding firms.
Internet Marketing Ninjas in Clifton Park, New York is an amazing Twitter PPC management firm that helps clients make the most of Twitter's social media advertising potential. The pros at this firm assist clients in setting up thorough and efficient PPC marketing campaigns that produce tangible results. Not only are their ad campaigns results-driven, but they also work within clients' budgets.
Another top Twitter PPC company, Damco Solutions of Township, Pennsylvania ranked second on 10 Best PPC's esteemed list. The global software development agency provides an array of consulting and IT services. Businesses that wish to boost their public profiles and enhance their customer service policies may be solid candidates for working with Damco Solutions. The firm routinely collaborates with clients from all different parts of the planet.
Epica Interactive, an excellent Twitter PPC management firm from Phoenix, Arizona, is a full-service company that helps their clients gain attention through Twitter PPC advertising. If a client wants to better their Twitter ad success, Epica Interactive may just be able to help. Clients that are dissatisfied with the amount of money they're using for PPC may benefit greatly from the experience, expertise and savvy of the Epica Interactive professionals. These pros are all extremely seasoned in the world of marketing and PPC online advertising.
Some of the other fine Twitter PPC management companies that 10 Best PPC listed include Thrive Web Marketing in Arlington, Texas; Digital Refresh in Girardeau, Missouri; TatuDigital in San Jose, California; Portent in Seattle, Washington; and Zuan SEO in Los Angeles, California. These Twitter PPC management firms are all extremely adept at helping businesses excel in the vast and often complex world of online marketing and advertising.
Individuals and businesses in need of talented professional Twitter PPC management assistance may want to regularly check 10 Best PPC's selections for the best and most acclaimed firms working in this specific field. The organization works extremely hard to pick only the most skilled companies in the category, and many rely on it as a quality resource.