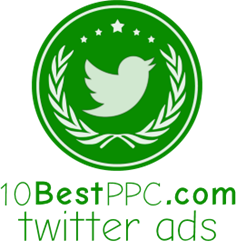 NEW YORK, N.Y. (PRWEB) November 24, 2015
Digital review agency 10 Best PPC recently published their November 2015 Best Twitter PPC Management Firm Awards. The awards are issued monthly to the companies across the nation that 10 Best judges based on a variety of criteria.
The Top Twitter PPC firm is Internet Marketing Ninjas of Clifton Park, New York. The company was #1 in the top 10 leading Twitter PPC firms and has been in operation for nearly 20 years. The full-service internet marketing and search optimization company is result-driven and prides itself on top-level customer service. Their experience in digital marketing has led them to create powerful websites for a wide range of clients over the years, and their specializations include link building, social media, pay-per-click advertising, content creation, conversion videos, web design and local search.
Second on the list of best Twitter PPC management agencies is Dacmo Solutions of Townco, Pennsylvania. A leading innovator of customer value and branding, the marketing consulting and IT services firm has been in business for over two decades and helped a plethora of clients develop sites that create sustainable business growth. Helping clients create innovative solutions that embrace all the wonders of modern technology and digital advertising is their objective and they have achieved this by tapping into the global market of the world's increasingly connected online culture.
Rounding out the top 3 of the Best Twitter PPC Management Firms is Phoenix, Arizona's Epica Interactive. Epica is dedicated to Twitter PPC management and relies on the expertise of its experienced consultants to help clients make the most out of their marketing budgets. Through the use of the latest search engine optimization techniques and other top digital marketing strategies, the team at Epica Interactive is able to create a plan that will help clients achieve their online advertising goals while working within the parameters of their specific budget.
10 Best PPC review team is based out of San Francisco and has members from a variety of digital marketing backgrounds. All have worked across a diverse field of PPC platforms, such as Google AdWords, Bing Ads, Facebook Ads and Twitter Ads. They also have experience in online marketing and search engine optimization and use this expertise to rank the agencies on a number of qualitative and quantitative ranking points as part of the 10 Best PPC Analytic Review Algorithm.