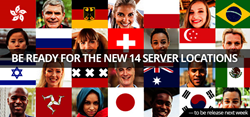 In just two years, FrootVPN proves that age is not solely be the basis of eminence - it will always be the quality of service that build good reputation and notability.
STOCKHOLM, SWEDEN (PRWEB) September 28, 2016
FrootVPN, a rookie in the field of VPN and founded only in 2014, has proven that "age will not solely be the basis of eminence- it will always be the quality of service that builds a good reputation and notability". FrootVPN started with VPN server locations in Sweden and US, but who would have thought that this rookie will grow immensely in just a short span of time, knowing that only two years have passed after it was started?
Today, 27th of September, FrootVPN officially and proudly released newly added VPN server locations to 14 different countries across the globe mainly in Russia, Hong Kong, Israel, Isle of Man, Germany, Netherlands, Switzerland, Poland, Japan, Australia, Singapore, South Korea, Brazil, and Mexico. This is a big leap for the service and an excellent opportunity to give a wider server location option for a continuously growing FrootVPN users. The team behind FrootVPN exerted a lot of work to accomplish this advancement in the service, yet still, the team returns all thanks and recognition to all their loyal users who keep on supporting their service.
FrootVPN continues to gain trust from loyal users as it devotes itself to bring affordable service of the best quality. It doesn't store any logs nor track any of the user's activities and ensures full privacy on all devices connected to the Internet so no one else can track the internet users, not even hackers, the government or even the FrootVPN itself. Its 300,000+ users enjoying the service is proof that FrootVPN is consistently one of the leading and best VPN in the market today.
Want to know more about the best vpn FrootVPN? Visit their website and follow them on Social media : Facebook : https://www.facebook.com/Frootvpn-767662809961569/ , Twitter : https://twitter.com/FrootVPN , Google+ : https://plus.google.com/+Frootvpn
Source: FrootVPN (https://www.frootvpn.com/)