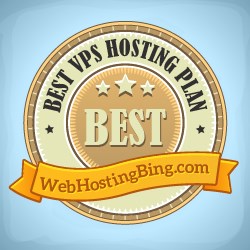 San Francisco, CA (PRWEB) January 02, 2014
As the demand for VPS hosting is continuously increasing, the leading web hosting review site WebHostingBing.com has introduced the best 3 VPS hosting plans that are both affordable and reliable to help webmasters gain outstanding online performance with the minimum costs.
The 3 plans, as introduced, are the Standard from BlueHost, VPS-1000 from InMotion Hosting and the Level 3 from HostGator, all of which are carefully reviewed and tested on price, server resources, technology, uptime, speed and technical support.
1) BlueHost Standard
BlueHost has been a recognized leader in the industry. As present, the company has released 4 VPS hosting plans among which the Standard is the most cost-effective one. The regular price of this plan is $29.99/mo, while the current one starts from $14.99/mo as a 50% discount for the first month is offered for subscriptions through this promotional link.
All of BlueHost virtual private servers are pre-installed with CentOS 6.4 and cPanel control panel, and the Standard plan comes with 2 GB RAM, 30 GB disk space, 1 TB bandwidth, 1 dedicated IP address and 1 free domain name. With the 30 days money-back guarantee available, customers are entitled to ask for a full refund in the first 30 days of their terms and a pro-rated refund at any time.
2) InMotion VPS-1000
VPS-1000 is the basic VPS hosting plan from InMotion, which is priced at $39.99/mo and now available at a lower price starting from $29.99/mo, 25% off. Designed for medium-sized fast growing businesses, the plan includes 512 MB RAM, 1 GB burstable RAM, 40 GB disk storage, 750 GB bandwidth, 2 IP addresses, cPanel control panel, automated data backups operated every 24-36 hours, and a 30 days full refund guarantee.
InMotion has 2 data centers using Dell servers, network and routers from Brocade and Cisco, BGP smart routing, 20 gigabits of network connectivity and Max Speed Zone technology, which ensures that all of the company's virtual private servers are able to deliver excellent uptime and speed.
3) HostGator Level 3
The world's leading web host HostGator has 9 upgradable VPS hosting plans among which Level 3 is a suitable choice for both web developers and online businesses. Priced at $29.95/mo, now the plan is purchasable at $21.97/mo. When cPanel is selected, the plan costs additional $10 per month.
Included in the fully managed Level 3 are 768 MB RAM, 30 GB RAID 10 disk storage, 500 GB bandwidth, 2 dedicated IP addresses, full root access, unlimited databases, private name servers, weekly off-site backups, IPTables Firewall, and 24x7 world-class technical support via phone, email ticket system and live chat.
For more details about the price and performance of the 3 plans, read this award page.
About WebHostingBing.com
Having been devoted to web hosting review and introduction for years, WebHostingBing.com is a specialized site that provides detailed web hosting company and product reviews and tutorials based on personal experience.