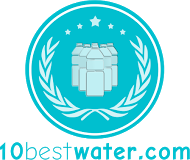 SAN FRANCISCO, CALIF. (PRWEB) December 21, 2015
10 Best Water has announced the winners of its "Best Water Brand" awards for December 2015. From the list of winners, it is clear that water from exotic locales has made the most strides in the industry this year. The winners were Tibet 5100, Waiakea and Fiji Water.
Named as the top water brand, Tibet 5100 won over many other reputable water companies. Tibet 5100 water is sourced from a glacial spring in Tibetan terrain, which gives it a clean taste due to being from a climate that is at a high elevation, pollution free, and very fertile.
Waiakea ranked second place on 10 Best Water's list of the best bottled water brands. Waiakea is a brand of Hawaiian volcanic water that originates at the snow-topped peaks of Mauna Loa and flows to the Kea'au aquifer. Because the land in Hawaii is so mineral-rich and largely untainted, Waikea Spring Water has a unique hint of sweetness and a soft finish. These qualities make it very popular and definitely contributed to the brand earning second place.
The third-place winner of the "Best Water Labels of 2015" award is Fiji Water, a leading water brand that is a staple in fine restaurants, spas, and health stores. It contains a high amount of beneficial minerals, such as silica, magnesium, and calcium, and has been praised for its pure, refreshing taste. Fiji Water is sourced in Viti Levu on the beautiful island of Fiji.
All of the winners of these categories demonstrated excellence in the bottled water industry, produce a superior product, and are committed to providing excellent customer service. The other nominees and brands that received honorable mentions also produce high quality water and are well respected. 10 Best Water presents its awards each year, and its judging panel is comprised of professionals who have decades of experience working in the water industry. The organization is dedicated to showcasing the world's best bottled water companies by using qualitative and quantitative industry data, as well as its own ranking process.