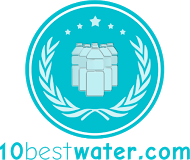 SAN FRANCISCO, Calif. (PRWEB) December 13, 2016
Recently, 10 Best Water chose 10 winners of its Best Water Brands awards for December 2016, honoring Tibet 5100, Waiakea and Fiji Water with the top prizes.
Bottled water is one of the world's most vital resources, and there are so many brands of bottled water out there that it can hard to decide which is the most nutritious or the purest. That is why 10 Best Water has a new monthly ranking system that will accurately determine which bottled water brands are the best each and every month. The lists are created each month using complex processes that weigh the most important aspects of each brand against each other. The results are constantly shifting and moving to make up for the opinions of the industry.
10 Best Water hopes to make it easy for consumers to find the best bottled water, and they work hard to ensure their listings are not only accurate, but that they represent the clear winners each month. Ten winners of the best bottled water awards for the month of December in 2016 have been chosen, and the full listing is available online. The top three winners from the list are outlined briefly below.
December's top water brand is Tibet 5100. Tibet 5100 is one of the most pristine sources of premium fresh bottled glacial water in the world. The brand is located in the Tibetan mountains, and their source spring produces water of unparalleled purity and taste. They even bottle the water on site to prevent any potential sources of contamination from interacting with the water.
Leading water brand Waiakea is the second-place winner for December 2016. They were the first brand of Hawaiian volcanically-filtered bottled water in the industry, and they were also the first American bottled water brand to go carbon neutral. They have a deep commitment to protecting the environment, and their efforts to fight deforestation have helped numerous communities.
Fiji Water emerged as the third-place winner among the best bottled water brands for December. Fiji Water is filtered naturally through layers of volcanic rock as it travels down through the water cycle. It starts as vapor traveling over the island of Fiji, and it ends up as one of the purest forms of fresh water in the world. Even though the brand was only founded in 1996, they have grown into one of the main players in the bottled water industry.
For more details about the winners of the December awards, please visit http://www.10bestwater.com.