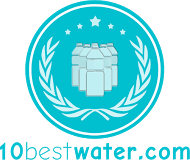 San Francisco, Calif. (PRWEB) October 24, 2016
10 Best Water recently presented the October 2016 winner of its Best Water Brand award. The winner in this awards category is Tibet 5100, one of the world's premier spring water brands.
Bottled water is incredibly valuable to many different parts of the world, but it can be hard to determine which brand is the best value for the quality. Some bottles are only municipal tap water that has been put into a fancier bottle, but others are supremely legitimate in their quest to distribute the best water in the world. That's why 10 Best Water has created a new monthly ranking that will provide the public with an updated list of the 10 best bottled water brands each and every month.
10 Best Water makes it their mission to use complex market research and mathematical algorithms in order to find the best brands each month. Each of the brands in the top 10 have been vetted for their quality, and the top 10 winners for October of 2016 have already been announced. The first three winners are outlined below.
Tibet 5100, the best bottled water brand for October 2016, is one of the world's finest examples of premium glacial spring water. The brand is only about 10 years old, but they have already anchored themselves as a main player in the industry. Their water is collected from a natural spring that is filtered through porous rock and sand in the Tibetan mountains.
The second-best leading bottled water brand is Waiakea, an exquisite brand of Hawaiian bottled water. Their water is collected from a volcanically-filtered spring located in beautiful Hawaii, and the brand has a deep commitment to protecting the environment wherever they can. Their water includes a healthy mineral concentration and numerous electrolytes. The brand is well-known for their incredible deforestation efforts and their carbon neutral rating.
Fiji Water is the third place winner for this month's selection of best bottled water brands. The water is collected in the scenic island nation of Fiji, and it is filtered through the natural volcanic rock that litters the area. Even though the brand was only founded in 1996, it has made a name for itself beside the other major players in the industry.
For more information about the October award winners, please visit http://www.10bestwater.com.