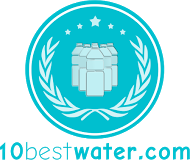 New York, New York (PRWEB) March 16, 2015
10 Best Water has developed a list of the leading bottled water brands and recently bestowed awards to recognize these top companies.
Handing out awards for the best water brand for 2015 is a duty that the staff of 10 Best Water takes very seriously. Managed by the respected spirits-rating organization Alcohol Aficionado, this group takes a detailed look at each leading bottled water brand to assess its overall quality. As one might expect, choosing a select group of bottled waters to populate this list is a difficult task that takes into account a variety of factors. Besides flavor, design and fragrance, there's also feel and finish to consider. All told, the effort put forth by this group of experts is a rigorous one. The byproduct of such work is a group of waters that now stands alone in its category as shining examples of the best that bottled water has to offer. The screening process used by 10 Best Water is one that guarantees only the finest examples of bottled water are presented.
Three of the water brands esteemed by 10 Best Water are noted below: Hailing from the volcanic regions of Hawaii, Waiakea is a top water brand that is able to capture the purity and crispness that the elite bottled waters are known for, providing both a tasty and healthy option for the consumer. This specific area is able to offer unique aspects that other bottled waters can't match, thanks to being derived from an area plentiful in natural resources that combine rainwater and carbon dioxide from the volcanic activity.
Another top water brand, Fiji Water serves as the essence of artesian water. It comes from a remote area untouched by modern life, which means none of the standard issues that can mar the taste are present. Since it's bottled at the source, those who partake of it are able to enjoy each of the important minerals that make up each bottle, while also being invigorated by the electrolytes that populate it.
Tibet 5100 emerges as third on the list of best bottled water brands. Going far and wide to bottle Tibet 5100 is a challenge, but the taste it delivers is worthy of the trek. The name comes from the fact that the water comes from a natural mineral spring in Tibet, 5,100 meters above sea level. That exotic detail only adds to the allure of what's called luxury water in China, and those who are lucky enough to enjoy it will end up refreshed and satisfied.