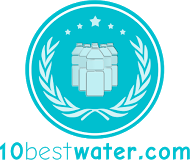 SAN FRANCISCO, Calif. (PRWEB) July 20, 2016
10 Best Water is excited to reveal the winners of its monthly Best Water Brand awards for July 2016. Winners for this month are Tibet 5100, Waiakea and Fiji, which provide superior products that cater to the preferences of discriminating consumers.
Water is arguably the most important substance on the planet, and fresh water is even more valuable due to its vital nature toward life. Bottled water brands exist on a broad spectrum of qualities, so it can be difficult to decide which is the best. Thankfully, that is not necessary because of 10 Best Water's rankings. 10 Best Water is a site that makes comparisons between the top brands of bottled water and ranks them according to overall quality.
10 Best Water compiles their listing based on a number of statistical analyses. 10 Best Water will start awarding new rankings each month, which will help keep the available information about the best water brands up to date.
Tibet 5100 has been awarded the number one spot on the list of leading water labels, making it the best water brand for July of 2016. This leading water label is sourced from a single spring high in the Tibetan mountains, which is where the brand derives its name. The spring rests at an altitude of 5100 meters, and the water includes a healthy mineral content due to the natural filtration it receives. The brand is by far the most popular brand of glacial spring water in China, and it is starting to gain attention internationally.
Waiakea, a top water brand based in Hawaii, has volcanic spring water that is naturally filtered by the porous volcanic rock of the region. The source is completely isolated, which makes it that much safer against contamination. Since the water is filtered through sediment, it receives a rich mineral content loaded with electrolytes. The brand focuses on sustainability and ethical practices.
Leading water brand Fiji Water is a popular product that is sourced from an artesian well on the island of Fiji, which sits in a remote area of the Pacific. The aquifer receives water that has been filtered through volcanic rock, so it has many of the vital nutrients that can be absorbed through water. The water is forced to the surface under its own pressure, and no human ever touches the water during the collection or bottling process.
For more information about the award winners, please visit http://www.10bestwater.com.