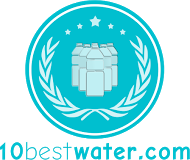 SAN FRANCISCO, Calif. (PRWEB) April 25, 2017
10 Best Water recently released the names of the winners of its Best Water Brand awards. The top position in the winner's roster for April 2017 went to Tibet 5100, followed by Waiakea.
The convenience and beneficial nature of bottled water has helped it become one of the most vital resources for the modern world, and there are a number of popular bottled water brands on the market. However, some of those brands are nothing more than municipal tap water that has been packaged into a pretty bottle. Why pay more for tap water that does not provide any additional benefits? Consumers need to be careful when they select their premium bottled water, but how can they know which brands are worth the price?
10 Best Water has started a new monthly ranking system that weighs the most popular bottled water brands against each other. Only the top brands are included in the top ten ranking that is released every month by 10 Best Water, so consumers can rest assured they are getting a quality product when they select one from this list. The first three winners for April of 2017 are outlined below, and the full list of all ten winners can be viewed online.
With more than 10 years of experience in the bottled water field, Tibet 5100 has certainly earned the distinction of being the best water brand for the month of April. Tibet 5100 is a leading water brand that collects water from high in the secluded Tibetan mountains, and every drop is superbly protected against modern pollution. Only the purest water is bottled in Tibet 5100, and even the bottling facility itself is kept sterile.
It only took Waiakea a few years to go from the newest bottled water brand in America to the most awarded. Waiakea is the top water label from Hawaii, and they were the first brand of bottled water in America to earn a carbon-neutral rating. That rating is due to their efforts to combat deforestation. Their water comes from the naturally-filtered springs of Hawaii, and it is filtered through porous volcanic sediment for a crisp, smooth taste.
Fiji Water also emerged as one of this month's best water brands. Fiji Water is collected from a vast aquifer located in its namesake island nation of Fiji. It has a consistent pH of 7.7, which is ideally suited for human consumption, and it provides a soft, nearly sweet taste on the tongue that is the result of the alkalinity found within.
To learn more about the award winners for this month, visit http://www.10bestwater.com.