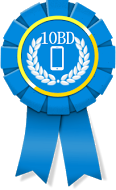 NEW YORK, N.Y. (PRWEB) August 30, 2016
10 Best Design has a new award to acknowledge the leading companies in the area of wearable app design. The winner in this category for the month of August is Yudiz, which is based in New York.
Wearable app technology is the future of the tech industry, and that revolution is just now starting to take legitimate shape. There are countless businesses out there that are trying to get in on the wearable trend, and those businesses will have to approach a professional wearable app design firm if they hope to receive a wearable app for their brand that will be maximally effective. There are so many app design firms out there that it makes it difficult to decide which one should be hired.
10 Best Design has recently started a new monthly award program to help keep track of the best wearable app design firm available today. They determine the list of the top ten each month by comparing a pool of the most prestigious brands on the market. A proprietary algorithm determines the overall quality of each firm and ranks them from highest to lowest.
It is not surprising that Yudiz capped the list of leading wearable app agencies for August of 2016. Yudiz, a brand that is far ahead of their competitors when it comes to creating intuitive apps that focus on the user experience. Every app they create is designed to be loved by their users, and those apps help bring in new forms of revenue while maintaining a link to the customers. They are truly an industry leader in the field of wearable app technology, and they will continue to innovate new products and software.
Brick Simple is a top wearable app design firm located in San Francisco, California. This second-place winner for August of 2016, takes a strategic approach to this specialized category of design. Brick Simple focuses on creating on wearable app design that addresses utility and function while maintaining usability. They are well-known in the industry for their ability to transform complex functions into something that can be performed by a standard wearable device.
Moveo Apps is the third-place winner for August of 2016. Being a premium wearable app agency, Moveo Apps has years of experience when it comes to professional app design. They work closely with each client they have to guarantee the client is satisfied with the end result.
For more information about the award winners, visit http://www.10bestdesign.com.