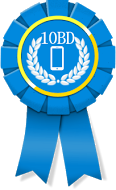 San Francisco, CA (PRWEB) November 19, 2015
Recently, awards organization 10 Best Design named the leading web application development firms of November 2015. Topping the list are Kohactive, Huemor Designs and Inflexion Interactive.
10 Best Design is a San Francisco based organization that rates, reviews and awards agencies for their excellence in web design and development. The company employs experts in web design, web development, online branding and search engine optimization. These experts research and rate design firms in 11 categories, including best SEO designers, best WordPress designers, and best mobile app designers. Though the company has been ranking design firms since 2013, web app development is a brand new category in their awards lists.
According to 10 Best Design's 2015 rankings, the best web app development agency is Kohactive of Chicago, Ill. 10 Best Design praises Kohactive for its user-friendly, open-source design programs and notes the firm's expertise in installing applications on Linux and Apache servers. The company also assists clients with web hosting, including WordPress and Drupal templates. Kohactive reaches out to entrepreneurs who want to build their brands with a lean startup approach. The firm emphasizes discovery and innovation as essential parts of the design process. Their clients include Groupon, MK Films and DaVita Clinical Research.
Second place in the ranking of leading web application development firms goes to Huemor Designs of Long Island, New York. This firm stands out for its extensive beta testing, use of virtual sandboxes and thorough testing of its apps in various web browsers. The awards listing highlights Huemor's adept balancing of PHP and HTML syntax within its designs. The firm favors an individualized design process that is concerned with telling a brand's story as well as strategizing for its success. Huemor's clients include NBC Sports and American Crew.
Rounding out the reigning three web app developers is Inflexion Interactive, a top web app development firm in Hoboken, New Jersey. 10 Best Design highlights this agency's expertise in product promotion, marketing and the use of analytic research to enhance its designs. Responsiveness is also among the firm's list of strengths. Their clients include Sotheby's, Sony and the Mayo Clinic.