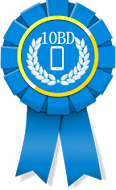 CHICAGO, Ill (PRWEB) January 28, 2016
10 Best Design is a highly reputable Internet organization that has a new award for the top web app development company. In January 2016, 10 Best Design named Kohactive of Chicago, Illinois as being the premier web app development agency within the industry. 10 Best Design evaluates all of the best web app development firm choices monthly.
Kohactive in the Windy City is a beloved marketing firm that proudly works with a broad range of very diverse clients. In its role as a leading Web App development company, Kohactive frequently works with new start-up companies and established brands. Companies that are searching for efficient, streamlined and effective web apps regularly turn to the marketing pros on the Kohactive team. Some of the other specialties they offer include mobile applications, marketing strategizing, eCommerce assistance, customized applications and even web design.
Huemor Designs is a well-known Long Island, New York firm that is 10 Best Design's second choice among the best Web App development companies for January 2016. This full-service firm has been in business since 2011, and the professionals who work for Huemor Designs are known for their strong digital technology skills. Huemor Designs creates web applications for many different industries, including education, retail, marketing and media. Huemor Designs often works with dining establishments to produce applications that enable diners to use the Internet to call in their meal purchases.
Top Web App development firm Inflexion Interactive of Hoboken, New Jersey landed in third place on 10 Best Design's list. The staff members at Inflexion Interactive make web apps that function with the assistance of PHP, CSS3 and HTML5, for example. User experience (UX) is a very big strength for the team members at this company. The goal for this company is make online experiences as convenient and stress-free as possible.
The other web application companies that were named by 10 Best Design in January of 2016 are Icreon in New York City, Curotec in Philadelphia, Pennsylvania, Mojo Tech in Boulder, Colorado, Posse in New York City, Swarm in New York City, Neon Roots in Los Angeles, California and lastly, Caxy in Chicago, Illinois. These companies are similar to the previously-mentioned agencies in that they focus on the creation of web apps. They also focus on other relevant topics such as content strategy, mobile applications, custom graphics and much more.