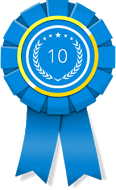 SAN FRANCISCO, Calif. (PRWEB) October 17, 2017
Web design firms Big Drop Inc, Blue Fountain Media, and EIGHT25MEDIA have received the Best Web Design Firm awards from 10 Best Design for October 2017.
Big Drop Inc is a leading web design firm that prides itself on robust designs that will have a meaningful impact for years to come. They provide a custom framework that supports multi-layer web programming in universally-accepted programming languages, including the latest version of HTML supported by Mozilla FireFox and Google Chrome. At the same time, Big Drop Inc's products are backward-compatible with older web technologies that may not be supported by browsers that do not typically support older syntax such as Microsoft's Internet Explorer and Apple's Safari browser.
Top web design firm Blue Fountain Media is an industry leader in the Internet marketing world, specializing in providing full-service digital marketing products and consulting. Working with companies from across the spectrum, Blue Fountain Media also offers services in branding and design, strategy, and mobile apps. They have offices both in Los Angeles and New York City.
EIGHT25MEDIA is renowned for their role in recruiting some of the best minds in Silicon Valley, including the brightest programmers and web designers available. That is one of the reasons the company emerged on the list of best LA website development businesses. Because of their location in the San Francisco Bay area, EIGHT25MEDIA is able to tap into the vast talent pool in the growing field of information technology. Opening their doors in 2010, they have especially focused on delivering content management systems for website owners. EIGHT25MEDIA has deep experience in working with the CMS platforms that now dominate the web, including those that are fully compatible with Apple and Android devices. The products released by EIGHT25MEDIA include support for such brands as Drupal, Magento, and WordPress, to name a few.
10 Best Design is pleased to honor all three companies with this new monthly award. Each of these web design firms in their own way truly represent the best LA website development business. For more information, please visit http://www.10bestdesign.com.