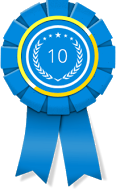 BOSTON, Mass. (PRWEB) March 21, 2017
10 Best Design is excited to announce the winners of its Best Boston Web Design Agency awards for March 2017, naming Yelling Mule as the top honoree.
Boston is well-known for its affinity for culture and high society, and that growing cultural movement has translated to a burgeoning scene of agencies that operate at the cusp of technology and advertising. These agencies are web design firms that offer a wide variety of digital marketing services, and businesses that are both local to Boston and from outside the city can take advantage of these world-class companies. However, there are so many firms in Boston that offer such services, it can be hard for brand leaders to determine which firm they should go with.
10 Best Design wants to make it easy for brands to find the best agencies for producing stellar web presences. They work hard every month to update their rankings with the newest top ten winners for the month, and this helps the industry stay current with the changing tides. The winners for March 2017 were posted online at the beginning of the month, and the top three winners are listed below.
For March 2017, the premier Boston web design firm is Yelling Mule. The company represents a team of designers, developers, coders, and creative marketers who are all working together to hone their skills into a single comprehensive service. They only use the most advanced techniques for reaching their goals, and they can easily boost the visibility of any brand.
Also considered to be among the best Boston web design agencies is A Streetcar Named Design. A Streetcar Named Design, a firm that takes great pride in their place as one of the industry leaders in web design in this constantly evolving digital world. They can design, compile, and collaborate with a vast number of employees to get the job done.
Top web design firm Upstatement is one of the most dynamic marketing agencies that focuses on digital content. Upstatement is excellent at producing websites that are highly engaging and that can function on a number of different platforms. Not only that, but each site they produce is attractive and well designed. Their goal is to ensure their clients receive a huge boost in visibility.
For more information about the winners for the month of March, please visit http://www.10bestdesign.com.