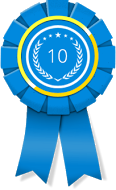 DENVER, Colo. (PRWEB) March 27, 2017
10 Best Design is excited to announce the winners of its Best Denver Web Design Firm awards for March 2017, naming Insyntrix, Buhv Designs and Followbright Web Agency as the top honorees.
Web design agencies are starting to crop up all over society as a result of the massive shift toward an online market dominated by professional websites all attempting to gain traction with the ever-evolving consumer base. Denver is one of the hubs of social and cultural evolution, so it should come as no surprise that the city is one of the most diverse locations for web design firms. Brands that are local to Denver or simply appreciate the amazing talent found in the city should consider a web design firm headquartered in the Mile High City. However, with so many from which to select, how can brands find the very best? Hence the need for 10 Best Design.
10 Best Design has worked hard to become a vital resource for the industries related to web design, digital marketing, and graphic development. They have started releasing monthly rankings of the best web design firms throughout the United States, and they have recently announced the winners for the subcategory focused on Denver. The top three winners are all listed below with details about the firms.
As the March 2017 top Denver web design firm, Insyntrix truly stands out in the web development industry. Insyntrix is a firm that believes every website should be nothing more than a living extension of the brands they are meant to represent. The amazing team at Insyntrix uses the most advanced techniques for modern web development, and they work hard to create websites that are truly unique for their clients.
Buhv Designs is considered to be the second-best Denver web design business for the month of March. Buhv Designs is a leading web design firm that has a great reputation among competitors in the industry. They are on the Forbes Agency Council as an official member, so brands can be sure to receive world-class web development and digital marketing services when working with Buhv. Their strategy combines many of the most effective methods into a single streamlined process.
Followbright Web Agency ranked third on the March list of best Denver web design businesses. Where other firms merely produce a website for their clients, Followbright Web Agency takes the extra step. They are perhaps best known for their amazing customer service that leads their clients all the way through production and into the website's launch.
For more details about the winners for the month of March, please visit http://www.10bestdesign.com.