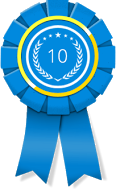 ORLANDO, Fla. (PRWEB) June 29, 2017
10 Best Design has chosen the June 2017 winners of its Best Orlando Web Design Firm award. The company named BIGEYE and Laughing Samurai as winners, as well as recognized Big Drop Inc.
The professionals of 10 Best Design are committed to providing the public with accurate, up-to-date information regarding which digital marketing services offer the most effective, expedient services. As such, the company's professionals are pleased to announce its new monthly award: Best Web Design Firm. Following is a summary of the best Orlando web development firms and some of the other companies that topped the list.
Heading up the list of leading web design firms for June is Big Drop Inc. The company represents a community of forward-thinking digital marketing professionals who offer clients a wide range of proven web design and development services. These services ensure that business owners will maintain a leading-edge online presence while also empowering them to communicate with members of the target audience in an engaging way that gets people interested in the brand. Companies can choose Big Drop Inc. to attain incredible results from amazing people.
BIGEYE is a top Orlando web development firm that truly exemplifies excellence in its industry. Business owners who are interested in obtaining dynamic web design and development services that work should consider working with BIGEYE. The professionals of this site optimization company possess extensive experience in the online marketing domain, and they use what they know to help clients obtain excellent results. Whether the business owner needs responsive web design assistance or wants to improve the aesthetic appeal of the site, the BIGEYE professionals know which steps to take to make it happen.
Another leading Orlando web development firm is Laughing Samurai. Laughing Samurai is a community of client-oriented industry experts who thrive on building innovative, engaging websites that will keep the brand growing in the online world. The techies of Laughing Samurai maintain a holistic approach to the web design and development sector, meaning that they excel in optimizing sites for components like functionality, engagement, mobile-friendliness, and visual appeal. Also, the professionals of Laughing Samurai excel in offering the client regular updates regarding how the site optimization process is unfolding. Additionally, the Laughing Samurai professionals maintain a results-oriented approach to web design to increase the likelihood that the client obtains an excellent return on investment (ROI).
For more information about the award winners, please visit http://www.10bestdesign.com.