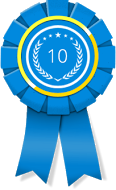 SAN FRANCISCO, Calif. (PRWEB) October 19, 2017
In its latest round of monthly awards, 10 Best Design has named G Squared Web Design as the best Sydney web design firm for October 2017.
In the modern digital world, brands often need fresh creative methods to bring in new clients and customers. One of the best ways to do this is with the help of a comprehensive web design firm. World-class firms can either tweak an existing website or create a new one entirely from scratch, and this helps them create a deeper connection between the brand and its customer base. However, it can be hard for brands to decide which of the many web design firms on the market they should use. Perhaps one firm isn't as skilled as they would claim, so 10 Best Design has created a system to make it easy for brands to find the best web design agency.
At the start of each month, 10 Best Design releases a top ten ranking for many categories in the field of web design, and their lists are built with complex and detailed equations that balance all the most vital metrics of a web design firm. For the month of October in 2017, the winners have already been chosen, and the full list can be seen online. The top three winners are outlined below.
October's best web design agency is G Squared Web Design. G Squared Web Design is one of Sydney's most trusted agencies and it believes in hard work, innovation, and creativity. The company has worked with brands like SanDisk, McDonald's, Alcatel, and Crime Stoppers, and its goal is to help businesses grow.
Top web design firm Nirmal Web Design Sydney also made the list of winners in October, coming in at second place. The professional team at Nirmal Web Design Sydney is able to provide a top-tier experience, thanks to its impressive skills in the areas of design and development. By working to showcase the goals of the client, the company can produce content that is second-to-none.
Whitehat Agency also made the October list of top Sydney web design firms. This agency has an excellent reputation for producing premium websites that are both highly functional and exceptionally appealing. By working closely with each client, they can ensure that each campaign and project is totally unique and highly effective. Since the team is adaptable and highly skilled, they can work on almost any scale.
For more information about the winners in this awards category, visit http://www.10bestdesign.com.