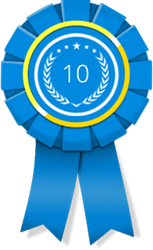 NEW YORK, N.Y. (PRWEB) January 23, 2017
10 Best Design has just released its new monthly Top 10 list of the best web design firms, naming Big Drop Inc as the January 2017 winner in this category.
The company used a strict and detailed set of criteria that it carefully examined to pick the award-winning establishments. Experts used factors such as design skills, promptness, customer service, pricing, features, policies and more. All of the winners excelled in one or several of those categories. The following are some of the winners and details about why 10 Best Design chose them.
It's no wonder that Big Drop Inc, a classy New York-based firm that has many positive elements working in its favor, topped the list of best website design agencies. First, the company doesn't pull any punches when it comes to showing people what it can do. Visitors can examine some of their most recent work and then decide if they want to go further. Big Drop offers an extensive suite of services that fall under the branding, design and marketing categories. The firm even creates diabolical animated videos for its clients.
Leading web design firm Blue Fountain Media and New York seems to rule when it comes to premier web design services. Blue Fountain Media is a provider with a suite full of innovative design services. The experts at Blue Fountain media can conduct a wide variety of tasks aside from building an award-winning website from scratch. They can also offer services such as strategy consulting, mobile app creation and online marketing.
Ruckus Marketing is another New York-based company that far exceeds one's expectations for web design services. As a top web design firm, Ruckus creates quite an impression by offering services like digital campaign launching and supercharged branding. Ruckus prides itself on creating the elements that help a business to grow. The company has been operating for more than 10 years, and it is proud to say that it has made many people happy. Former clients rave about how much they feel that Ruckus is the best website design agency. The 10 Best Design company apparently agrees.
The top 10 list consists of many excellent companies. In fact, prospects may have a little trouble choosing the one that is perfect. Such people can feel confident that one of the companies on this list can provide everything that the business has been searching for.
For more information about this month's award winners, visit http://www.10bestdesign.com.