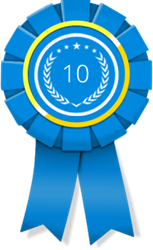 New York, N.Y. (PRWEB) December 21, 2015
10 Best Design, a leading organization and website that routinely acknowledges fine work in the website design and development fields, has issued a brand new monthly award for the best web design firm. 10 Best Design's premier selection for the best website development agency of December 2015 is Big Drop Inc., a company that's located in New York City.
It's easy to see why Big Drop Inc. is the best web design firm, according to 10 Best Design's standards. It is a beloved online marketing agency that combines classic web development with fresh identity branding concepts. The professionals at Big Drop Inc. not only are experts in Internet marketing, but they're also scripting and coding gurus. Responsive website design is a major priority for the Big Drop Inc. team. The staff is also extremely knowledgeable about user experience. They put a lot of energy into animations on websites, for example.
Blue Fountain Media directly follows Big Drop Inc. on 10 Best Design's December list. Like Big Drop Inc., Blue Fountain Media is a leading website development agency based in New York. The goal of this Internet marketing agency is to create websites that have impressive, cutting-edge user interfaces. The professionals who are on the Blue Fountain Media staff are extremely familiar with numerous programming languages that can help them manage web servers and hosts alike. Linux and Apache are a couple other big strengths for the pros at Blue Fountain Media.
Maxburst, a top web design firm in Farmingdale, New York, is 10 Best Inc.'s third choice for December. The skilled and driven website developers and designers at Maxburst are all extremely dedicated to the field of digital marketing. They're also all extremely passionate about all of the possibilities that are associated with the digital marketing industry. Success is also a top goal for the Maxburst team. These marketing pros work hard and only stop once they've achieved all of their objectives. Visuals are a significant area of concentration for the capable professionals on the Maxburst team. They relish employing images that are modern, memorable and hard to miss. In addition, they are dedicated to using imagery that can help shape a brand for the better.
Other high-quality website design firms that were named on 10 Best Design's respected list include Old City Press, EIGHT25MEDIA, Dotcom weavers, SocialFix, Forix Web Design, Kohactive and Inflexion Interactive. These acclaimed companies come from locations all over the United States.