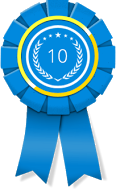 NEW YORK, N.Y. (PRWEB) April 18, 2016
10 Best Design has acknowledged Big Drop Inc. of New York, New York as being the best website development business for the month of April 2016.10 Best Design, which is comprised of a team of people with extensive expertise in the web design field, features its web design firm rankings on its official website to help companies locate the leading service providers.
As a premier web design firm, Big Drop Inc., is highly-acclaimed in its field. The aim for the Big Drop Inc. team is to create individualized websites for all different kinds of clients. Big Drop Inc. regularly creates websites for many industries. The professionals who work for Big Drop Inc. design and develop strong and detailed web presences for their clients. The firm's web developers are coding experts who are dedicated to fine work. Big Drop Inc. can be a fantastic choice for clients that are interested in websites that load speedily and efficiently.
Blue Fountain Media in New York City is in second place on 10 Best Design's April 2016 list of best website development businesses. The web designers and developers at Blue Fountain Media strive every day to assist their clients in attaining all of their key objectives. The digital firm specializes in website design assistance and many other vital services. Some of the other specialties that are provided by the staff members at Blue Fountain Media are SEO (search engine optimization), video production and PPC (pay per click). This company can be a great choice for clients that are interested in dedicated, detail-oriented and hands-on web design work.
Maxburst, a top web design firm in Farmingdale, New York (Long Island), is in third place for April 2016. The talented and ambitious team at Maxburst regularly provides quality website design work to major corporate clients that operate out of New York City. Although Maxburst frequently collaborates with sizable corporate clients, the company also frequently collaborates with businesses that are significantly more compact. Maxburst can masterfully accommodate the web design needs of a large range of clients.
Other web design firms mentioned by 10 Best Design include Old City Press in Washington, D.C.; EIGHT25MEDIA in San Francisco, California; Dotcomweavers in Paramus, New Jersey; SocialFix in New York, New York; and Forix Web Design in Portland, Oregon. For more information, visit http://www.10bestdesign.com.