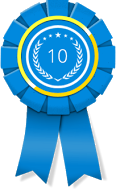 CHARLOTTE, N.C. (PRWEB) June 27, 2017
Recently, 10 Best Design chose the Best Charlotte Web Design awards for June 2017, honoring The Idea People and Bunga Web Design. In addition, Big Drop Inc was recognized as the No. 1 Web design company in the United States.
10 Best Design San Francisco-based 10 Best Design represents a group of individuals throughout the United States skilled in online branding and web development. Such skills allow the experts at 10 Best Design to determine the best web development firms around the country. 10 Best Design's new monthly awards for Best Web Design Firm only recognize the agencies within the upper echelon of digital media. Millions of professionals have viewed the rankings proffered by 10 Best Design, and the company's award categorization allows for easy browsing for clients.
It is no surprise that Big Drop Inc topped the list of best web design firms. The company consistently receives awards for their work in web development and online marketing. Its team of experienced personnel believes customers deserve the highest quality webpages. Big Drop Inc's website suggests what clients can expect clean and elegant, yet bold and beautiful design. The gallery of "Latest Work" features dozens of thumbnail snapshots of Big Drop Inc's recent work. The artistry and efficiency of each design created by Big Drop Inc are simply awe-inspiring. 10 Best Design recognizes Big Drop Inc as the "No. 1 Web Design Company in the U.S.A."
10 Best Design ranks The Idea People as the "Leading Charlotte Web Design Business." The Idea People, which is native to Charlotte, has provided high-quality web pages to clients in its decades-long existence. In its role as a top Charlotte web design business, The Idea People serve businesses of all sizes. The Idea People's website features crisp, geometric design; a white, black, and red color palette; and eye-catching micro animations. The Idea People emphasize mature professionalism while striving to provide the superior quality of work clients anticipate.
Highly-praised Bunga Web Design focuses on creating professional webpages for small businesses. Being a leading Charlotte web design agency, Bunga develops websites that rival the quality of those produced by large companies. Bunga's own website consists of slick cobalts and grays with subdued pink accents, the perfect mixture of professionalism and whimsy. In addition to webpage design, Bunga's team provides businesses with branding, logo, and graphic design services.
10 Best Design's website lists hundreds of reputable web developers, making it easy for businesses to find qualified providers to meet their needs. For more information about the award winners, please visit http://www.10bestdesign.com.