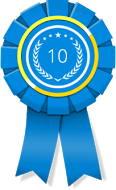 Washington, D.C. (PRWEB) October 27, 2016
10 Best Design is excited to announce the October 2016 winners of its Best D.C. Web Design Firm awards. Old City and Materiell took winning positions, indicating their role as top-performers within the industry.
As one of the most trusted organizations for web design reviews, ratings and awards, 10 Best Design has helped many businesses find a quality website design firm to build a new website or completely transform an existing one. All of the firms who received this new monthly award have shown that they can create websites that are both highly attractive and functional, all while delivering superior customer service by listening to the needs and goals of their clients and having a genuine interest in helping them build their web presence. Here are some details about the top winners of this month's award.
As a leading DC web design agency, Old City Press has consistently received praise from businesses throughout Washington, D.C. Their entire team is highly experienced in custom website creation, giving them the ability to put together a website that is completely original, attractive to its target audience and highly functional. Their team understands that looks aren't the only thing that matter when it comes to website design for businesses. This is why they ensure each website they create is also excellent as far as technical aspects are concerned, being coded in a way that allows compatibility with any browser or device, in addition to being optimized for SEO purposes.
Materiell, which also topped the list of best web design firms, offers services aimed at businesses that want to use their Internet presence to its fullest potential. They know that a business website isn't a piece of artwork that people look at to appreciate its beauty and originality. Their website building process pays attention to elements that make a brand stand out. The end result is a website fully optimized for its intended purpose. Depending on the client, this could be generating leads or direct sales, showcasing the products they have created, receiving charitable donations or having visitors download a software app. Materiell's team also offers a variety of related digital services, which include managed hosting, search engine optimization and website content optimization.
For more information about the winners in this category, visit http://www.10bestdesign.com