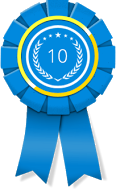 JACKSONVILLE, Fla. (PRWEB) June 26, 2017
10 Best Design has selected the winners of its Best Jacksonville Web Design Firm awards for June 2017, honoring Station Four and DiscoverTec as well as Big Drop Inc.
10 Best Design is an organization whose professionals thrive on providing clients with up to date, helpful information about the digital marketing world. For this reason, the representatives of the company are pleased to provide the public with a new award category: Best Web Design Firm. This release includes more information about the leading Jacksonville web design businesses for June 2017 as well as some of the other digital firms that topped the list.
Top web design firm Big Drop Inc is an organization that is committed to providing clients with cutting-edge, detail-oriented web design and development strategies that will help them connect with prospective buyers in the online realm. The representatives of the organization know that innovative, aesthetically-engaging websites appeal to online audiences. As such, they focus on implementing all of the graphic design strategies necessary to make client's site a visual masterpiece. In addition to developing sites that are conspicuously creative, the Big Drop Inc representatives maintain a results-oriented approach which increases the client's likelihood of attaining an exceptional outcome.
Station Four is the community business owners should trust when they are ready to move their company forward in the internet domain. As a leading Jacksonville web design agency, Station Four is committed to maintaining a detail-oriented approach to web optimization, and this is why they excel in perfecting each individual element of the client's product pages. This includes the aesthetic component as well as the site's dimension of usability. In addition, the Station Four crew realizes that maintaining a customer-oriented approach to work keeps the business owner's brand vision on center stage. This client-centered outlook empowers the corporate leader to ensure that her or his unique plan for brand representation is implemented quickly and correctly.
DiscoverTec also earned a spot on the list of leading Jacksonville web design businesses. Business owners who want their brands to thrive online should turn to the professionals of DiscoverTec. The representatives of the community are passionate about providing clients with the results-centered services that increase the likelihood of the business owner obtaining an exceptional return on investment (ROI). Additionally, the DiscoverTec professionals are addicted to innovation, meaning that they know how to develop websites that are remarkably original. For cutting-edge web optimization services that really work, companies should consider choosing DisocverTec.
For more information about the award winners, please visit http://www.10bestdesign.com.