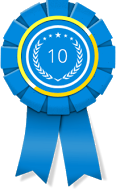 NEW YORK, N.Y. (PRWEB) October 26, 2016
10 Best Design is pleased to announce the October 2016 winners of its Best New York Web Design Firm awards, with Big Drop Inc taking the first-place honor.
10 Best Design's professionals are passionate about ensuring that online audiences are always up to date regarding which internet marketing companies offer the best services. As such, the company's representatives are pleased to announce the new awards category and provide a description of the winners below.
As a leading Manhattan website development firm, Big Drop Inc and its the representatives are proud to provide clients with the dynamic, cutting-edge services necessary to make their brand stand out in the ecommerce realm. For many years, the Big Drop Inc representatives have provided corporate leaders and small business owners with detail-oriented, results-driven site optimization services which ensure that the client's brand will generate ongoing Internet buzz while accelerating the brand recognition process. Business owners who are looking for big results and an extended sphere of Internet authority should turn to the professionals of Big Drop Inc.
Another top web design firm, Blue Fountain Media, truly stands out in the marketplace as a stellar provider. Blue Fountain Media represents a top-notch team of internally motivated digital developers who love the process of ensuring that the client's online presence is stellar at all times. At Blue Fountain Media, emphasis is placed on first recognizing the unique ideology and purpose of the client's brand and then developing a highly specific, customized website that shows Internet audiences what the business owner's company is all about. Additionally, the Blue Fountain Media representatives are committed to offering their clients detailed reports and regular updates about the status of the ecommerce project to ensure that the business owner is always aware of how the web design and development process is unfolding. For an optimized ROI business owners should choose Blue Fountain Media.
Business owners who are ready for big results should consider Maxburst, which holds the third position on the October selection of leading web design firms. The professionals of this dynamic organization are committed to offering clients the results-oriented, detail-driven marketing services that empower them to interface with online audiences in an interactive, innovative way that builds relationships and prompts conversion. In addition to designing beautiful websites, the Maxburst representatives are skilled in making all product pages highly functional and cross compatible.
For more information about the winners in this category, visit http://www.10bestdesign.com