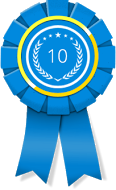 MIAMI, Fla. (PRWEB) January 30, 2017
10 Best Design recently named Miami's best web design firms for January 2017, with Decographic leading the pack. This is a new monthly award.
The top web design companies have been rated for excellence in web development according to an extensive proprietary process developed by 10 Best Design using a range of analytical tools. Only leading Miami web development business firms are included in the listing.
The list has been compiled by 10 Best Design to assist Miami companies that are searching for the best web design firm, but do not have the resources to search it out from the wide range of companies that are available. They are looking for companies that have top designers, developers and creative artists on their teams. They also want service providers who will understand their needs and develop a website that meets them.
In addition to naming the top web design companies, 10 Best Design also includes a summary of what the companies offer, enabling businesses to choose those web developers that cater to their specific needs.
Here are the top three companies out of the 10 selected by 10 Best Design. All are based in Miami.
Decographic is recognized as the best among the leading Miami web development businesses. The company says that it brings in developers, designers and creative artists as well as marketers to provide a team that is one of the best in its field. The company starts with a consultation with the client to understand what their requirements for their website are. They follow this by seeking to form a relationship with the client based on respect and trust.
Leading web design firm Absolute Web Services earned a second-place ranking for January. This company seeks to enable business owners to reach their target market through building relationships. It believes that a great website produces a great profit. The website should be functional, mobile-friendly and different in appearance from any others.
Absolute adds that it will use search engine optimization technology to ensure that a company reaches its goals.
Another top web design firm, Fuze Inc., took the third spot on January's list of winners. Fuze describes itself as passionate, innovative and unique. Starting with an in-depth conversation with the client to understand the client's needs, it develops a website using its team of creative thinkers who use their good observation skills, attention to detail and strong communication abilities to build the client's brand.
For more information about this month's award winners, visit http://www.10bestdesign.com.