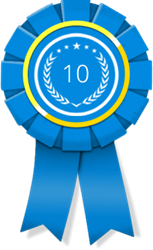 SAN FRANCISCO, Calif. (PRWEB) November 17, 2015
10 Best Design, an independent agency that publishes monthly rankings of the best web design firm candidates in the United States, recently recognized the top web development companies for November 2015. This San Francisco-based entity is objective and fair when compiling its list of the top companies that provide Web design solutions. In fact, 10 Best Design has its own staff that is fluent in the most common standards in coding and scripting including HTML, CSS and PHP. Therefore, such technical knowledge is quite useful in giving out a new monthly award to the best candidates.
According to the rankings published by 10 Best Design, the best Web development firm is Big Drop Inc of New York City. This is a company that has built a sizable portfolio in Web design for enterprise use, including e-Commerce and corporate. An office in Manhattan also gives Big Drop Inc an edge as far as credibility and reputation in the Web design sector. The company rarely struggles to find clients due to the close proximity to major financial institutions, media outlets and other major enterprises. Big Drop Inc is also recognized for its capabilities in multimedia production such as animations and short videos.
Also based in NYC, Blue Fountain Media is among the top Web design firms that is recognized for its excellence in coding. The company offers everything from responsive Web design to search engine optimization. Blue Fountain Media has also received national recognition from media outlets such as USA Today. Of course, the Web design firm has also been praised by New York City's top printed publications such as the Wall Street Journal. Innovative project management at Blue Fountain Media appeals to major corporate clients that are based in the heart of NYC. Additionally, this firm offers more affordable Web development solutions through content management systems (CMS) like WordPress.
The experts at 10 Best Design also consider Maxburst as a leading Web design firm. Located outside of NYC, Maxburst offers Web development that is most derived from powerful coding and scripting based on Ajax. The company also distinguishes itself as a leader in IT management by offering installation and configuration of servers running on Apache and Linux. Additionally, Maxburst is acclaimed for its smooth and fluid scripting with the use of MySQL, PHP and other open source syntax.