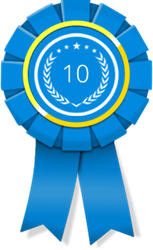 NEW YORK, N.Y. (PRWEB) June 21, 2017
10 Best Design has announced its monthly award for the best web design firms across the nation. For June 2017, the company named Big Drop Inc. as the leader in this category.
10 Best Design is a collaboration of web design professionals with a plethora of experience, including online branding and web development. 10 Best Design began as a group of back-end developers, online marketers and front-end designers who shared a strong belief in the future of digital artwork.
The new monthly award for the best web design firm is presented based on an algorithmic application developed as a unique tool by the team at 10 Best Design. The tool essentially rates web design companies based on both quantitative and qualitative principles. Some of the benchmarks studied during the assessment of each firm include online research, customer reviews, proprietary analytics, and client research. All of this and more is pulled together to review by 10 Best Design, and its evaluation team makes the final decision for the awardees.
Hiring a leading web development firm is not always a quick or easy process. Customers that are looking to hire top-notch web design firms have a long list of considerations before selecting a firm for their project. 10 Best Design's awards help shortcut that process by spotlighting high-performing web development firms.
The top three award winners in this month's web design firm category are Big Drop Inc., Blue Fountain Media and Ruckus Marketing. Following is a brief summary of each company.
The best web design agency is Big Drop Inc, which is located in New York, New York. It also maintains offices in Los Angeles and Europe. Clients of this top-notch firm include Good Feet, Samsung Next, HBO, and blk.
Blue Fountain Media is top web design firm that is also based in New York. It also has offices in Chicago and Seattle. Major clients of Blue Fountain Media include P&G, NFL, NASA, Toys R Us, and Walt Disney.
Ruckus Marketing, which has offices located solely in New York, also made the list of leading web development firms. Key clients of Ruckus Marketing are the American Heart Association, HSBC and Sea Oats Luxury Estates. Other clients of the firm include The Venetian and The Catholic Diocese of Brooklyn.
Additional winners of the Web Design Firm Award include WebpageFX (Washington, DC), Eight25Media (San Francisco, California), Dotcomweavers (Paramus, New Jersey), SocialFix (New York, New York), Forix Web Design (Portland, Oregon), Kohactive (Chicago, Illinois), and The Creative Momentum (Atlanta, Georgia).
For more information about the award winners, please visit http://www.10bestdesign.com.