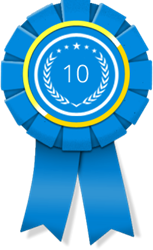 FARMINGDALE, NY (PRWEB) July 27, 2015
In its efforts to spotlight the country's best small business web design firms, 10 Best Design has announced its latest winners for this honor.
The 10 Best Design Analytic Review team is comprised of people from all over the nation who specialize in online personalization and web design for small businesses. Its Best Small Business Web Design Firm awards rank outstanding small business web design firms in its online directory. The ranking is based on a point system of qualitative and quantitative elements, including online consumer research, testimonials, previous awards, web site traffic and other SEO positions. Listed below is a description of the top three winners: Maxburst of Farmingdale, New York; Huemor Designs of Long Island, New York; and Skuba Design of New Orleans, Louisiana.
As a premier small business Website development company, Maxburst is a unique and modern small business website design business that specializes in helping entrepreneurs build a stellar internet profile to manifest their company's vision and goals. Maxburst understands that the internet is a powerful force that can be harnessed to make a small business thrive. However, in order to be noticed among a plethora of competitors, entrepreneurs need skilled support from an accurate, detail-minded business that is experienced in using progressive and innovative ad campaigns to produce long-lasting, substantial results. They don't rely on cheap tactics or unpredictable controversy-building methods to bring in customers. Instead, they attract clients by relying on proven, time-tested techniques that yield amazing results.
Huemor Designs is a small business web design firm with expertise in aiding entrepreneurs with creating outstanding, highly effective online marketing campaigns, which are essential for growing a target audience and maximizing profits. Huemor Designs knows that the tactical, successful use of established branding strategies is a significant component in helping small enterprises attain exposure in the online world. It specialists are renowned for using an array of tested graphic design techniques and connectivity strategies to capture the target audience's attention.
Skuba Design, a leading small business web development firm that fully understands the unlimited power of web connectivity, employs the most up-to-date content development techniques and visual design tactics to make sure that the customer's website is perfectly optimized. The team's experts work tirelessly and skillfully to improve a site's cross-compatibility. This enables people across multiple platforms to easily access and explore the company's merchandise pages. As innovative professionals dedicated to making a company's brand and logo appealing to modern audiences, the specialists at Skuba Design keep abreast of all rising trends in the market.